News, Reviews & Articles about Sue Palmer
We played for the San Diego Ballet
What an honor and experience!
San Diego Ballet with the Motel Swing Orchestra, directed by Javier Velasco, 2023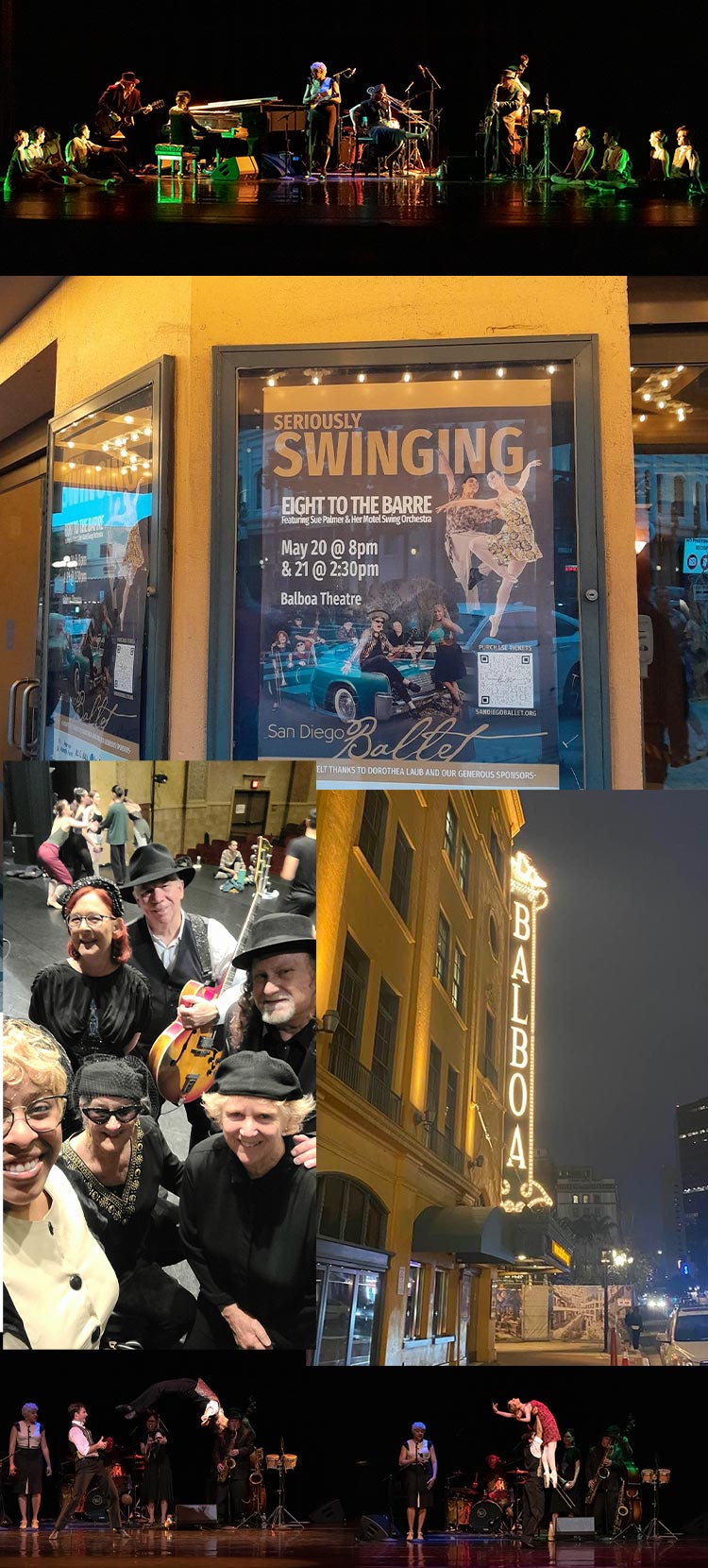 Read Sue Palmer and the San Diego Ballet: Where Ballet meets Swing from the San Diego Troubadour
Gator by the Bay 2023!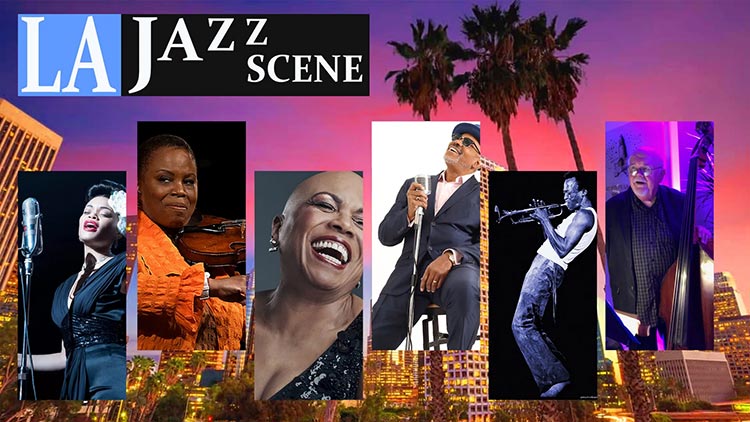 Sue Palmer and her Motel Swing Orchestra Movin' Along
Sue Palmer, who is billed as "The Queen Of Boogie Woogie," has been a fixture on the San Diego music scene for several decades. Her latest EP, Movin' Along, is a blues-oriented set comprised of eight songs that feature her Motel Swing Orchestra, a rollicking septet.
The program begins with the slow atmospheric Nina Simone blues "Do I Move You?" Singer Liz Ajuzie who is on most of the selections, proves to be an effective interpreter of this piece. The cooking medium-tempo blues "Whoo Wee Sweet Daddy" has hot solos by Sue Palmer, Jonny Viau on tenor, and guitarist Steve Wilcox while "Locked Up In Georgia," which starts with the Dragnet theme, is similar and full of energy.
"Last Call" has Ajuzie's fine vocal on a minor blues while Sue Palmer is showcased a bit on "Movin' Along." "Swango" (a bit reminiscent of "Sway") has the group utilizing a tango rhythm. "Killer Tiki Boogie," which sounds it could have been the theme song for a television detective series, is played for laughs with an odd vocal from David Mosby. The set concludes with a real change of pace, a feature for Liz Ajuzie (while accompanied by piano and guitar) on "My Favorite Things."
While I wish that Sue Palmer had given herself more solo space, Movin' Along is a fun set of swinging bluesy music.
Scott Yanow, LA Jazz Scene - https://lajazzscene.buzz/waxing-poetic-reviews/
Listen to Sue Palmer on CatBluz Radio, Episode 207 (March 28, 2023)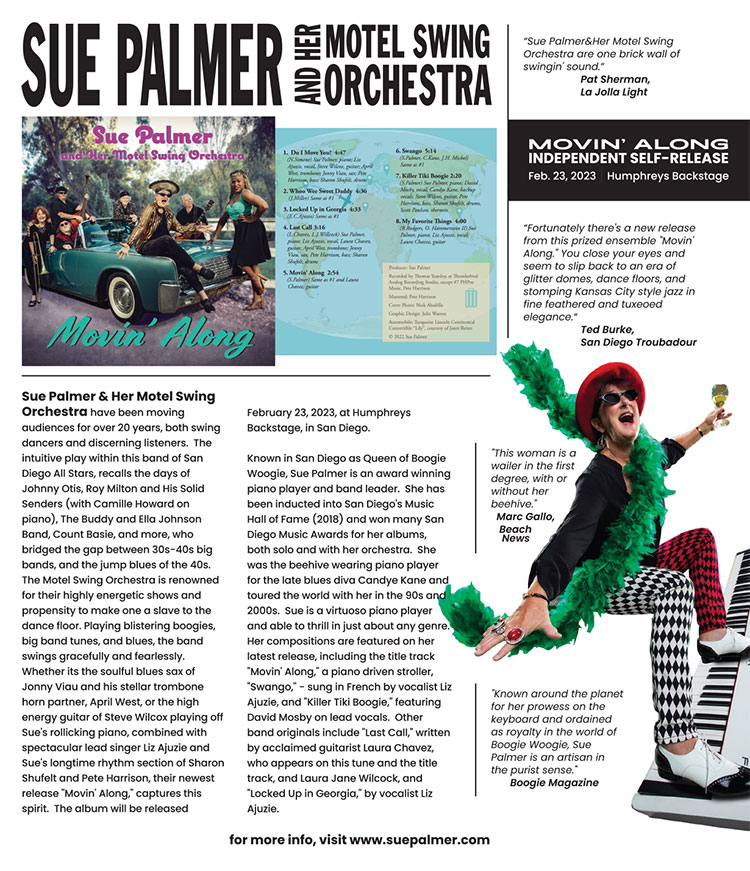 We had such a good time celebrating the TURQUOISE VINYL ALBUM: Movin' Along!!! Thanks to everyone who came and purchased the merchandise❤️❤️❤️❤️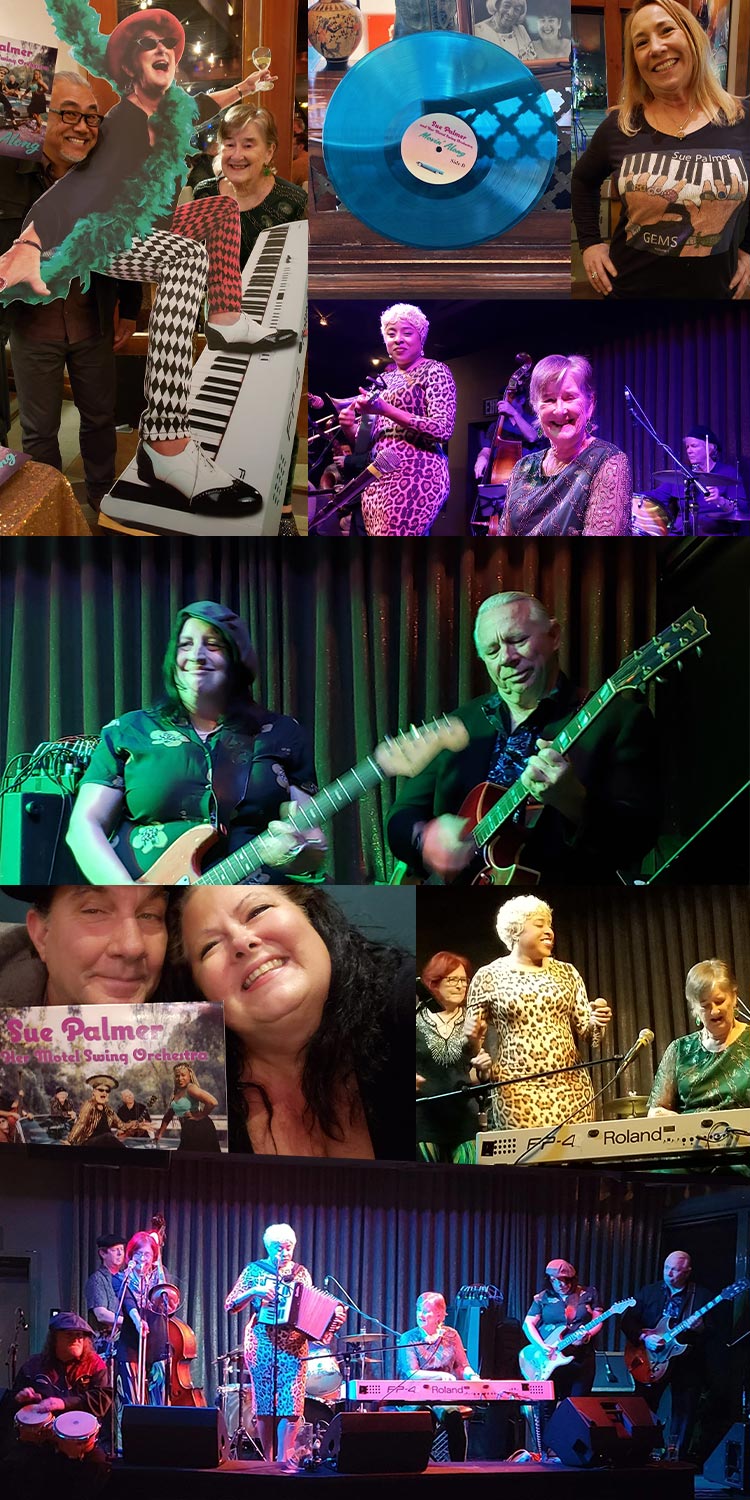 "The Queen of Boogie Woogie, Sue Palmer, brings her Motel Swing Orchestra, to Tio Leo's July 5th, 2022. Palmer's most recent release, "Movin' Along," took home the award for "Best Local Recording," at the 2022 SDMA's, an excellent example of her R&B roots. This is a band meant to fill dance floors, with a mix of top notch originals such as the title track, a piano-driven stroller, and covers such as Nina Simone's bluesy, sultry "Do I Move You?." Palmer has been an integral part of San Diego's music community for over 4 decades,. If you haven't caught a set yet, make it a priority. You won't be disappointed."
Bart Mendoza, sdnews.com, June 21, 2022
SUE PALMER AND HER MOTEL SWING ORCHESTRA: Movin' Along
Anyone who hasn't yet familiarized themselves with the rumbling rhythm and sway of pianist Sue Palmer and her Motel Swing Orchestra, you need to do two things. First, kick yourselves for not yet getting in the groove with his keyboard mistress' magistral sense of the galvanizing groove. Seriously, the music is that good. Second, get on board for the rollicking wonder that is the music played and recorded by this band, this indispensable asset to the glorious San Diego paradise we have the pleasure to live in. The sunny days and the beaches that meet the boundless embrace of the Pacific Ocean are only enhanced with the rejuvenating jazz, jive, and boogie by Palmer and her peerless ensemble around the county and the world beyond. She has over 15 albums to her credit, and for a blues and jazz fan as yet not familiar with the energy she and the Motel Swing Orchestra provide, Gems Volume 1 and Gems Volume 2, a couple of generous compilations from several of her past albums, are choice place to begin the discovery.
Read the entire review at the San Diego Troubadour.
David Borgo & Liz Ajuzie



August 31, 2021 - Sue had the opportunity to record with David Borgo and Liz Ajuzi for his blues history course at UCSD.

21st Annual Toy Piano Festival


Sue has been the headliner of this festival for many years and appears once again with the charming Scott Paulson and fantastic classical pianist Kay Etheridge.



In honor of March's celebration of Women in History, I thought I would revisit some San Diego music and photographic history. My first podcast (in October 2018), was inspired by my friend Mary Wickline. She was quite ill at the time and I thought I would cheer her up by making a mixtape, many of tunes by 2 of the musicians she had followed and inspired for years. She was a wonderful photographer and has been exhibited by the San Diego History Museum recently. I have included many of her photos in this piece.



She was a friend and neighbor of Molly Stone, while living on Florida St., in the 70s. Molly had a trio then called Stones Throw, consisting of herself, Phil Shopoff, and Paul Severtsen. They were all multi instrumentalists, but were perhaps best known for their vocals, and often compared to Manhattan Transfer. It was a time of music everywhere, in many venues, large and small and there were many duos and trios that were popular (ie Fanny,Nook,andCranny, The Two Tones, and many more). Musicians had 5 night a week /engagements, for several months at a time. Stones Throw became well known for their interpretation of 20s and 30s jazz tunes as well as 50s music, which was enjoying a revitalization at the time. Many San Diegans, old and young, were fans of theirs. I first saw them at a restaurant on Harbor Island called Reuben's (now Island Prime).



Another well known cafe that featured all kinds of roots music, was the Old Time Cafe, in Leucadia, just north of San Diego. It was called Tobacco Road, and consisted of myself, Sharon Shufelt, Eric Hybertsen, Preston Coleman, and eventually April West, and Phil Shopoff.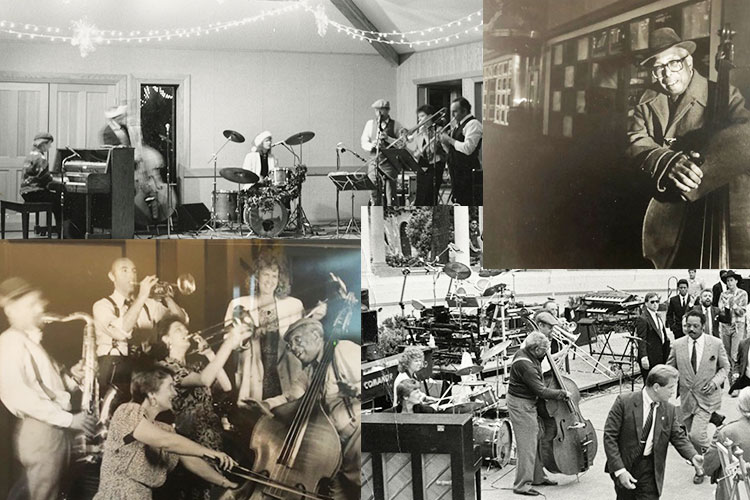 Parts of Stones Throw and Tobacco Road were morphing and we all played together at different times. Molly and Sue, with others, started a rock band called Ms.B.Haven, in the late 70s, and were also involved with a bluegrass band called Bermuda Grass.


One of the offshoot bands we had for a short time was called Hula Hoop & the Bomb Shelters. We played mostly 50s music. It was a combination of Stones Throw and Tobacco Road.



Molly went on to become a lawyer in Milwaukee and Los Angeles, and an activist for child welfare issues. I went on to be the principle musician in blues singer Candye Kane's band, touring the world for almost 10 years, and then founding Sue Palmer & Her Motel Swing Orchestra, for the last 20 years. We continue to be good friends and occasionally still enjoy playing music together. This podcast celebrates both of our musical careers.

It has always been my joy to collaborate artistically, and I have been able to with painters (ie Julie Warren - who catalogued my career with Candye Kane in oil and wood cut prints), poets (ie Carol Archibald), glass artists (ie Leslie Perlis), musicians (ie Molly Stone, and many others), and many photographers and videographers. In the 80s, I was known for having some of the best band photos in town, thanks to the talent and friendship of Mary Wickline. Even in her last days, she was inspiring me artistically. Because of her, the Motel Swing Happy Hour, KSUE San Diego, was initiated. While the music scene has changed considerably, and will continue to do so, especially in the pandemic days now, it is inspiring to celebrate these Women in San Diego's History.




Halloween Special
featuring Scary Sue Palmer!!!
Sue's Halloween show features some of San Diego's scariest jazz and blues musicians. WATCH OUT!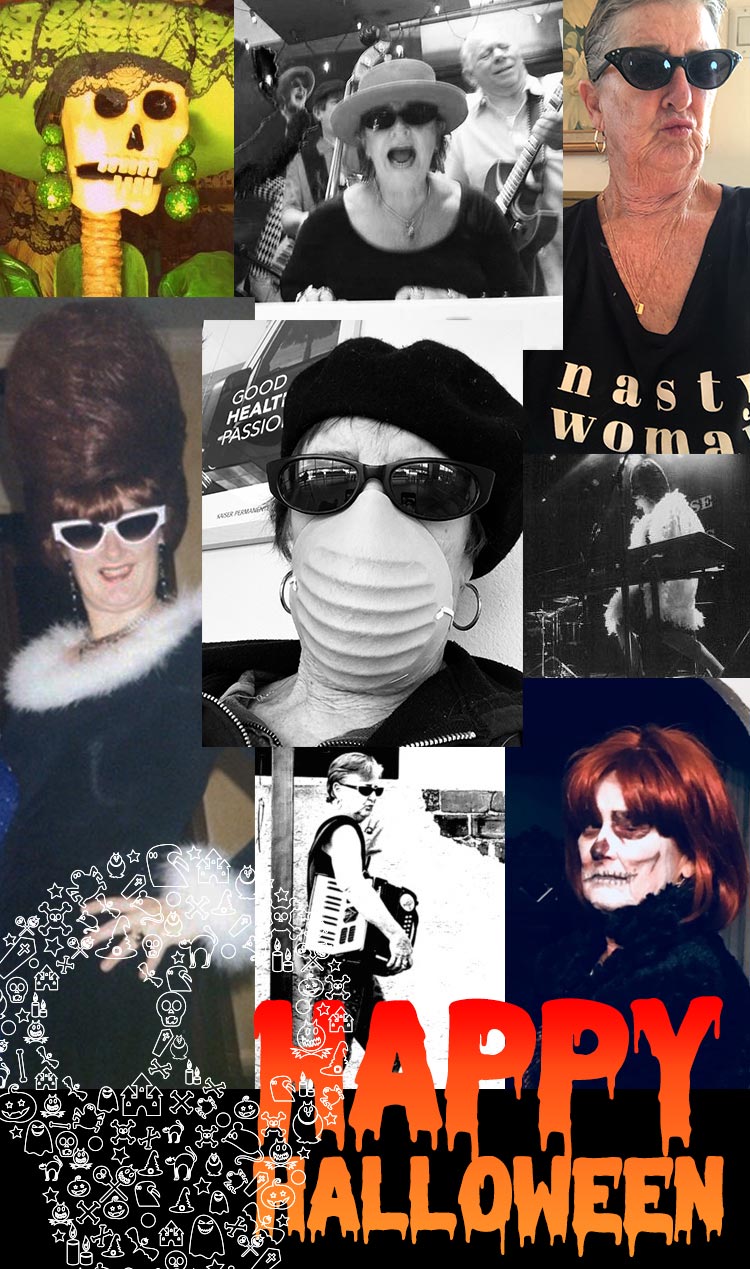 THIS JUST IN...
We were nominated for TWO San Diego Music Awards this year!! Best Jazz Band (Sue Palmer & Her Motel Swing Orchestra) AND Best Blues Album (for GEMS volume 2)!! Thank You San Diego and Thank You to SDMA!! Music Awards will be announced on March 23rd at House of Blues.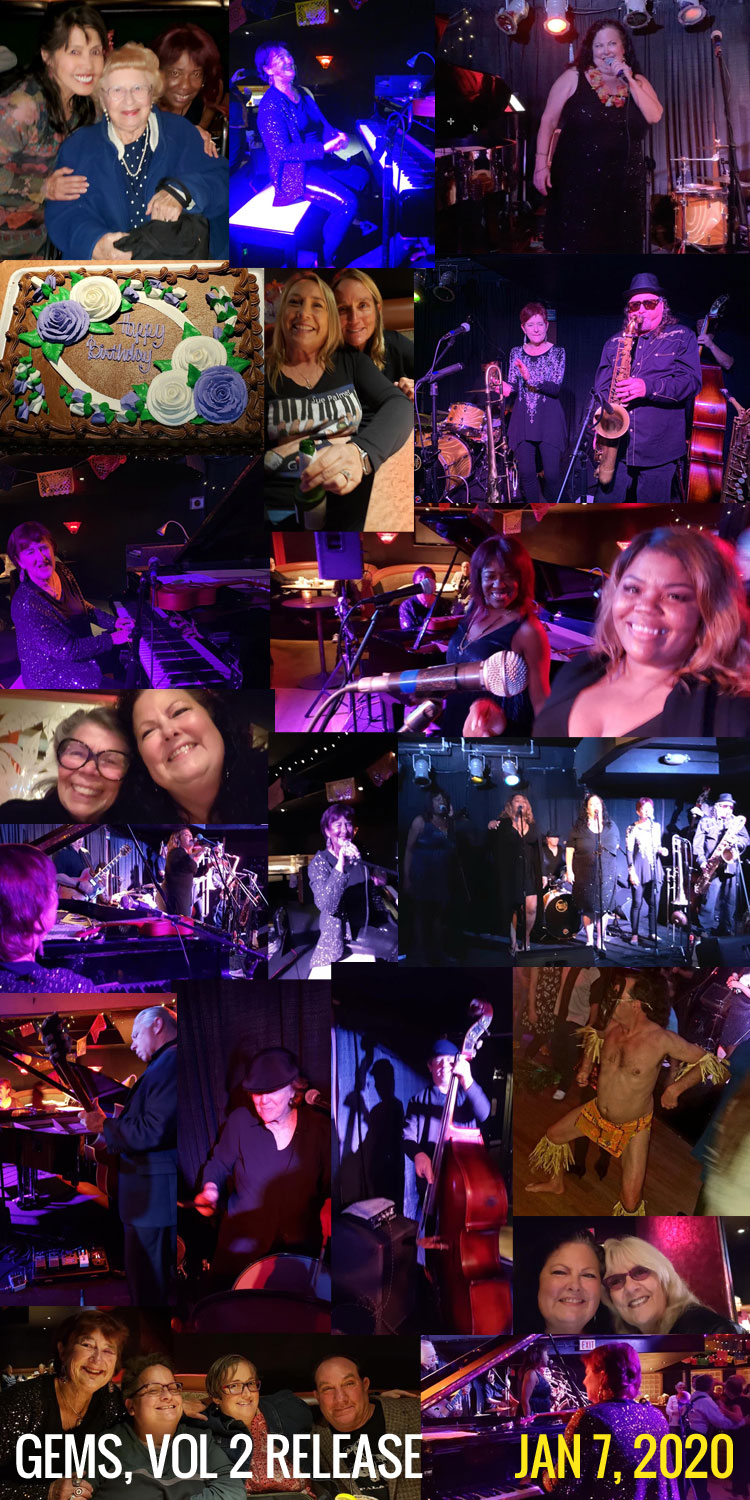 Sue Palmer Doubles Down - Gems: Volume 2
It's 2020, so it should be perfectly clear to you there is simply no better way to start the decade than with a new project from Sue Palmer. She continues to mine her four decade, freakishly large catalog of music in order to provide us with Gems: Volume 2. Palmer, widely known as the Queen of Boogie Woogie, and without doubt she most certainly is, but don't be misled. There is so much depth in her art, layers to her musical career, and variety of style and presentation, it's easy to understand why you may have overlooked it.
Gems: Volume 2 is composed of what Sue refers to as "personal favorites" recorded by several of her bands dating back to the 1980's. The most recent track recorded just this past summer with old friends and special guests at the Thunderbird Analog Recording Studio. It's a wealth of material that truly reflects her lifetime in music. So I asked if putting together this project made her a little nostalgic. "Yes." Sue says. "Most of the time, over the last 70 years really, I was always looking forward to the next project. I'm still like that now, but I guess I'm old enough to want to write my memoirs, musically speaking. I find it interesting to figure out why I came to be playing a certain way. They say everything you do is just preparation for the rest of your life, forever preparing. I have found that everything I have done musically, I have eventually used."
Time and space prevent a complete description of the total project, but to whet the appetite let's examine a few nuggets. Songs that jump out at you… "Anytime, Anyplace, Anywhere" is a beautiful and loving homage to Hadda Brooks. Vocalist Deejha Marie spells it out and the lushness of the Motel Swing Orchestra adds so much texture, its music you can feel.
"Freak Lover" is a little different, reminiscent of the Prohibition/Speakeasy era, with Candye Kane at her bawdy best. 'Come and see about me, Daddy!' The violin of Eric Hokkanen gives you some Papa John Creach attitude in this uptempo romp.
No big band can call itself a 'big band' without some Ellington and this fresh take on "East St. Louis Toodle-oo" from 2015 is ageless. The muted brass of Phil Shopoff and April West make Sue's piano shine all that much brighter. It's like stepping back in time. Speaking of which "Fish for Supper" is my absolute favorite track. The legendary Preston Coleman has that Louis Armstrong growl as he laments over his gastronomical woes. Watch out for bones!
"Ladies Shoes" is a slow blues where once again, vocalist Deejha Marie takes it to the street. The track also features the unrelenting and masterful blues guitar of Steve Wilcox. Add the rest of the orchestra and you grasp the true meaning of 'smoke-filled room!'
That's just five of the 20 tracks available on this star-studded album. Sue says, "I have played with some wonderfully talented and charismatic people over the years…Preston Coleman and Candye Kane definitely among them! AND I still do!!" An incredible rotating cast of musicians but a long-time core rhythm section of side players like sax man, Jonny Viau and rock solid time keeper and drummer, Sharon Shufelt. Bass player Pete Harrison, guitarist Steve Wilcox and the trombone of April West have all been instrumental in Sue Palmer's musical journey. And Sue is the first to recognize it. "I always remember that Duke Ellington considered his orchestra his instrument…and I feel like that too. If one has a wonderful band, you want to highlight them!!!"
Sue will highlight her entire Motel Swing Orchestra with guest vocalists, Sharifah Muhammad and Laura Jane Willcock at her upcoming 'Gems: Volume 2' release party January 7, 2020 at Tio Leos, 5302 Napa St. San Diego. More info is as close as www.suepalmer.com
Tim Mattox, travelingboy.com
---

Sue Palmer Drops a Few GEMS
You know it's going to be a good day when your mailman delivers a big fat CD right to your front door. And it's extra special when it comes from the reigning Queen of Boogie, Sue Palmer. Sue has put together a collection of 20 songs that she says are "particular favorites" from an immense archive that dates back almost 40 years. With an extended musical cast of peers, old friends and special guests, GEMS Volume One is a snapshot into the life and career of this gifted performer.
Read the entire review at travelingboy.com
---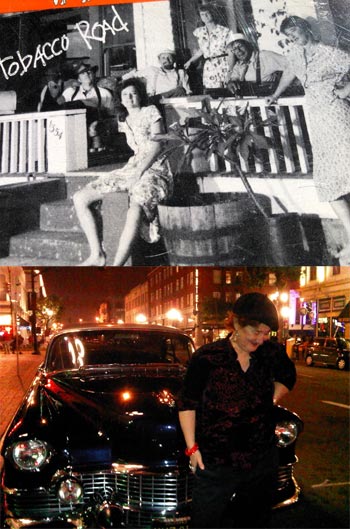 Tobacco Road was a fun band I was in from about 1982-1991. This story by my friend Eric Hybertsen, who started the band with me, gives you another perspective. The band also consisted of Preston Coleman, Phil Shopoff, Sharon Shufelt, and April West. For more on Preston's bio, listen to Preston Coleman podcast, right here in The Motel Swing Happy Hour, KSUE San Diego.
It Was Twenty Years Ago Today
by Eric Hybertsen
This story starts when the band I was a member of (20-40s jazz, swing, and boogie woogie) got a gig at the fairly new Croce's Restaurant and bar on 4th street in the Gas lamp District in San Diego. When Sue Palmer and I started the band in 1983 we discussed an interest in having a group that had no amplified instruments: no electric guitars ,piano etc. That paid off because no amplification was allowed at Croce's due to an ordinance to protect residents living above from noise. The club was founded by Ingrid Croce (widow of the incomparable song writer, entertainer Jim Croce. We had a little trouble doing vocals without mikes but over all we were as happy as clams. This must have been about 1985 and the neighborhood was still very funky. I enjoyed jawing with the homeless folk out front on my breaks. It felt like we were living the life that fit the music we were playing. We were the closest thing to a house band for the club and Ingrid was fond enough of us to ask us to play at her wedding at her house when she remarried. It was the hippest affair that I've ever been to but our part of it was kind of low key: some nice background mellow jazz tunes . I remember her son A J who was 16 then (1987) hanging around listening to us for a while. I knew he was working on becoming a musician but his future was yet to come. I never saw him again until much later but I knew that he became very successful as a piano playing song writer. The times we played downtown during that time and in many different venues was a dream come true but I was never comfortable giving up my job at UCSD. Times changed for the band and I stopped playing professionally after the Millennium. Later, when my wife & I moved downtown I found out that A J lived on the next block from me. I'd walk by his house but he was never around for me to talk to until I saw him loading a van. He said he was moving to Nashville. I took the opportunity to tell him that I played at his Mom's wedding and he got a strange look on his face and said, "That was Twenty Years Ago Today". It had a nice ring to it and I felt it had a poetic way of framing the times of my life for me.
Leslie Perlis & Sue!
Leslie Perlis, glass artist extraordinaire, won 1st place in this Art Show in Spanish Village in September, 2019!! She made a juke box, with yours truly in the first audio slot, and a pair of glass swing dancers. She also gave me this Point Loma High School marching band hat!! We are both Pointers. Love these multi media collaborations!!
Have a listen to KROC Boss Radio of Rock and Roll!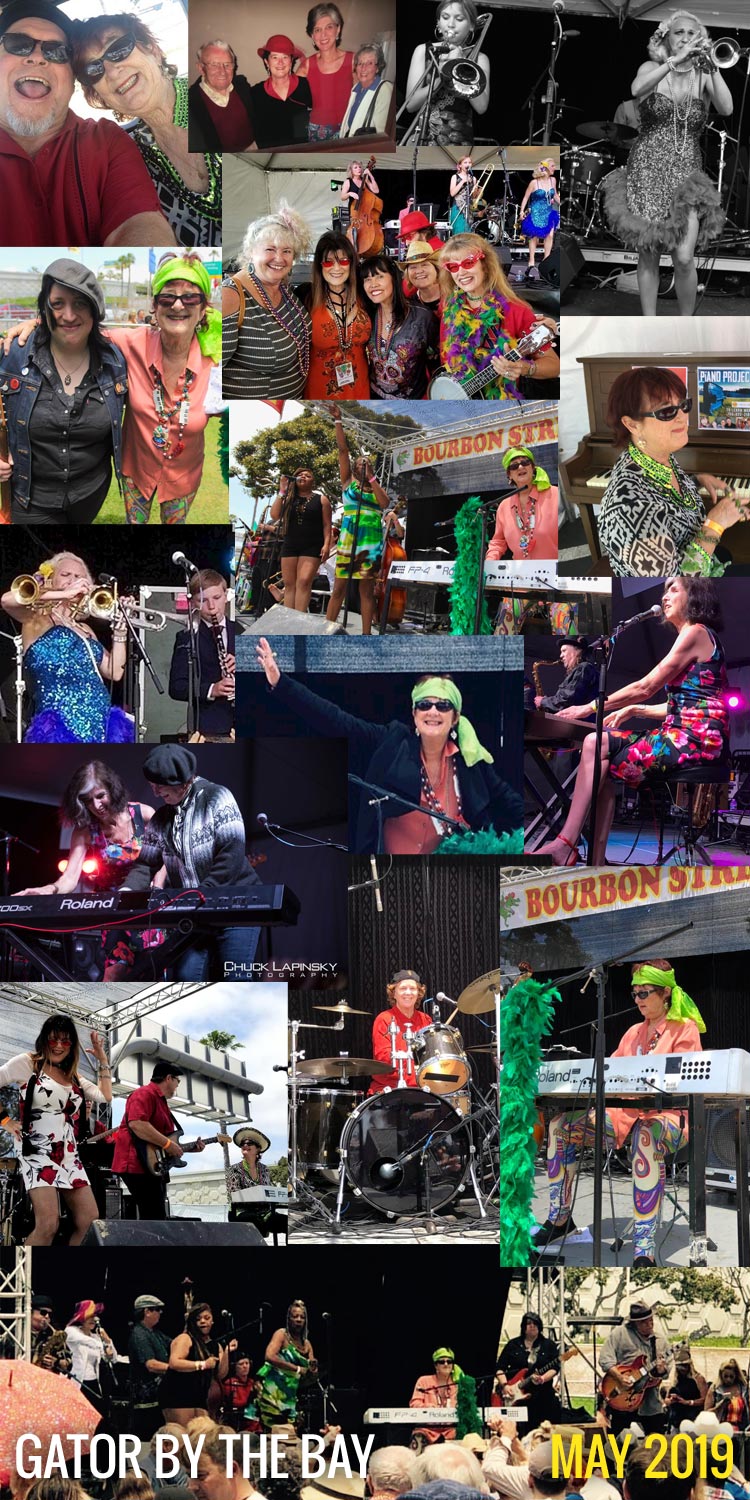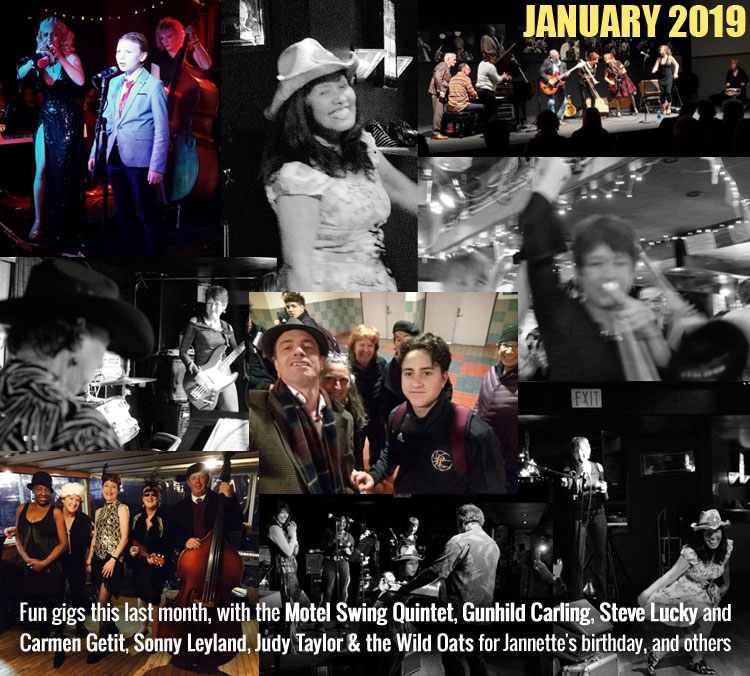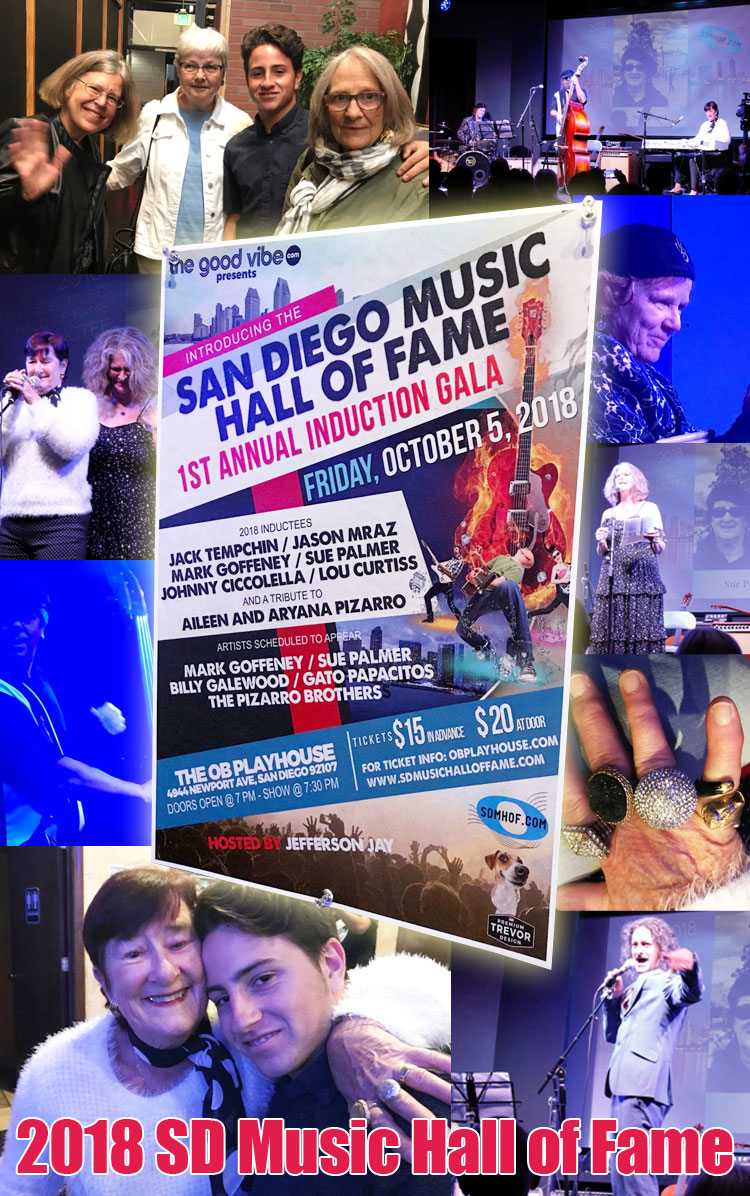 Jason Mraz and Jack Tempchin among artists to be inducted Friday in San Diego Music Hall of Fame
"Grammy Award-winner Jason Mraz, acclaimed Eagles' singer-songwriter Jack Tempchin and boogie-woogie piano dynamo Sue Palmer head the list of artists who will be honored at the San Diego Music Hall of Fame's first annual induction gala." — George Varga, San Diego Union Tribune
Inaugural SD Music Hall of Fame ceremony at OB Playhouse on Oct. 5
"Hosted by event organizer Jefferson Jay, the first year's honorees will be songwriter Jack Tempchin, best known for his work with The Eagles, pop hitmaker Jason Mraz, armless guitarist Mark Goffeney, jazz pianist Sue Palmer, long-time booker and musician John Ciccolella, and the late Lou Curtiss, music historian, radio host and original owner of Folk Arts Records." — Bart Mendoza, SDNews.com
Introduction by Claudia Russell
"You don't decide to be a queen. You're born to be one. And Sue Palmer was born to be The Queen of Boogie Woogie.
Her accolades are many… The Jim Croce Award for Excellence and Dedication to Music, Best Self-produced CD from the Blues Foundation in Memphis (for Sophisticated Ladies)…the City of San Diego proclaimed March 25th 2008 Sue Palmer Day.
She's received multiple San Diego Music Awards for both her bands and album releases, including Best Blues Album for her solo piano album "After Hours", a timeless set recorded in a Rancho Sante Fe living room.
How appropriate that she should receive an award for that, as it was the living room in her family's Ocean Beach home where young Sue Palmer found herself surrounded by music. The uncle who played violin…the aunt who brought the piano to life…another aunt who played alto sax in the Ada Leonard Band, an all-women swing band in the 30s and 40s. At the Palmer house, everyone was encouraged to join in…even if it meant playing spoons or clapping along. When her mother said it was time for her to take some sort of music lesson, Sue exclaimed, "Drums!" The next day, lucky for us, she began piano lessons.

After graduating Point Loma High School in1965, she went on to graduate from SDSU with a double major in English and Political Science. And always, played a bit of piano here and there. Her first gig earned her a whopping ten bucks at a Women's Studies Department event. She laughs remembering it…"I only knew three songs and just kept playing them over and over!"
As a young woman fresh out of college in 1968, Sue was energized by the Women's Movement. She was inspired by female musicians and bandleaders…and when "the guys" didn't want to hire her because she didn't fit their cutesy or sultry stereotypes, she stepped out and formed her own groups.
One of the earliest, Ms. B. Haven, started making the musical rounds in the 1970s, playing gay bars like The Club (now The Casbah). That band was also the beginning of some of Sue's lifelong musical partnerships. Drummer Sharon Shufelt and Trombonist April West have been part of Sue's bands for nearly 40 years.
Her work with Preston Coleman's Tobacco Road is legendary in the San Diego music scene. She played with Preston for nearly ten years, when Candye Kane asked her to be the piano player for her band. It was a crazy, creative, exciting time. The band toured the world to sold out houses in France, Australia, Scandinavia, Greece, Turkey, and all over the United States. It was a musical partnership that would last ten years and see numerous writing collaborations with Candye. She was the musical director for Candye Kane's play "Toughest Girl Alive" which premiered at San Diego's Moxie Theater.
Sue's Motel Swing Orchestra debuted in 2000 and has been going strong since. With some of San Diego's finest players, the Motel Swing Orchestra brings authentic boogie-woogie and blues to listeners and dancers alike. Who knows how many dance floors this woman has worn down??
But, her live shows are more than entertaining…they're educational…digging deep into the originators of America's great jazz and blues music. Sue takes times to play her respects to the history of the music. One of her specialty shows is an historical journey though the early history of women in jazz…shining the spotlight on women like Lil Hardin Armstrong, Victoria Spivey, Nellie Lutcher, and the incomparable Hadda Brooks, one of the early boogie Woogie masters. In 2002, Sue brought Hadda to San Diego for a dynamic performance at Dizzy's. It would be Hadda's next to last performance.
And that's one of the things that I think makes Sue such a remarkable bandleader and musician. While she can certainly hold a spotlight, she is more than happy to share it. Sue is about the music…the fun…the people who just can't sit still when the boogie starts. She's shared not just a stage, but a piano with many of the greats…Marcia Ball, Dona Oxford, Sonny Leland, LouAnn Barton and more. All with unabashed joy on at every gig. It says something about you when you have cats that have been in your band for decades, musical partnerships that are sustained no matter what the show happens to be. There is integrity and honesty to Sue's music…as we like to say, she's the real deal.
When her heavily jeweled hands hit the 88s, you're in for a ride. That left hand gets cookin' and before you know it…you're moving. She can rock the house, then turn around and give you a rendition of a classic Duke Ellington ballad that can bring tears to your eyes.
All throughout her career, she's kept a sense of humor on stage…from the famous Beehive look to the spunk of her marching band uniform. It's a show…it's entertainment on the highest level…and through all the years, all the miles, all the audiences, she still calls San Diego home. She's supported local benefits and charities, nurtured young musicians, even hosted a radio show on Jazz 88.3.
She is more than a gifted piano player…she is a champion of music history, equal rights, and her community.
I have been very fortunate to work with Sue at festivals, private gigs, community concerts and presentations, but I have been even more fortunate to call her a friend. Her music has helped my family through some dark times. She powered through cancer and came out on top. She works over 250 days a year gigging, in addition to running the business that is a music career. She loves without reserve and laughs without apology. She IS San Diego blues and boogie.
It's been a long time since Sue was playing the spoons in the family living room. She's brought this classic American music sound to people all over the world…and continues to bring us together with music. To say she is a treasure is an understatement. She is the Queen of Boogie Woogie. She is our beloved Sue Palmer."
SUE PALMER: Gems, Volume One
"San Diego's Sue Palmer is a pianist known to the world as the Queen of Boogie Woogie, and throughout the 20 selections on her dealer's choice anthology, Gems Volume One, we find the sobriquet is hers alone to wear. A constant and vital presence on the local music scene for 30 years plus, Palmer's energized style of of blues, swing, and jazz has delighted fans with keyboard work that is a wonder of rhythm and delicacy, two-fisted swagger and moaning blues holler, straight ahead improvisation and sweet doses of country and torch songs to make the evening's entertainment a diverse delight. These tracks are choices Palmer has selected from the 20 albums she has recorded since 1980, recorded with a broad array of superlative musicians including Rob Thorsen, Candye Kane, April West, Gilbert Castellanos, and a slate of other players who add their distinct personalities to Palmer's dedication to swing, stop and boogie." ...Ted Burke, San Diego Troubadour
Read the entire review at sandiegotroubadour.com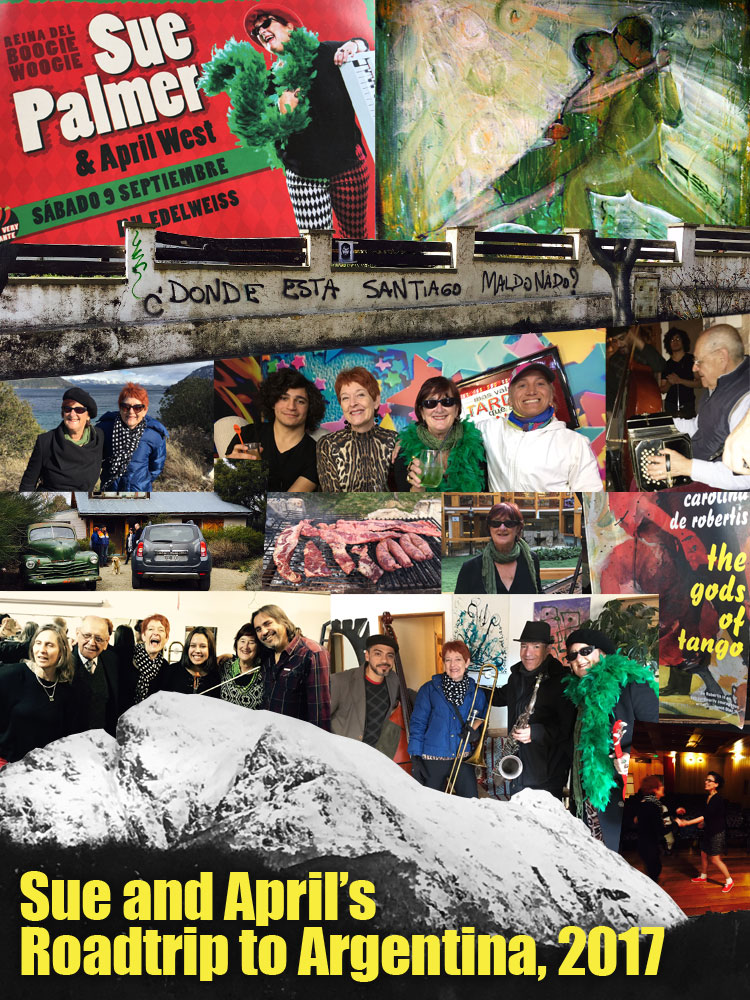 Sue's Trip to Russia!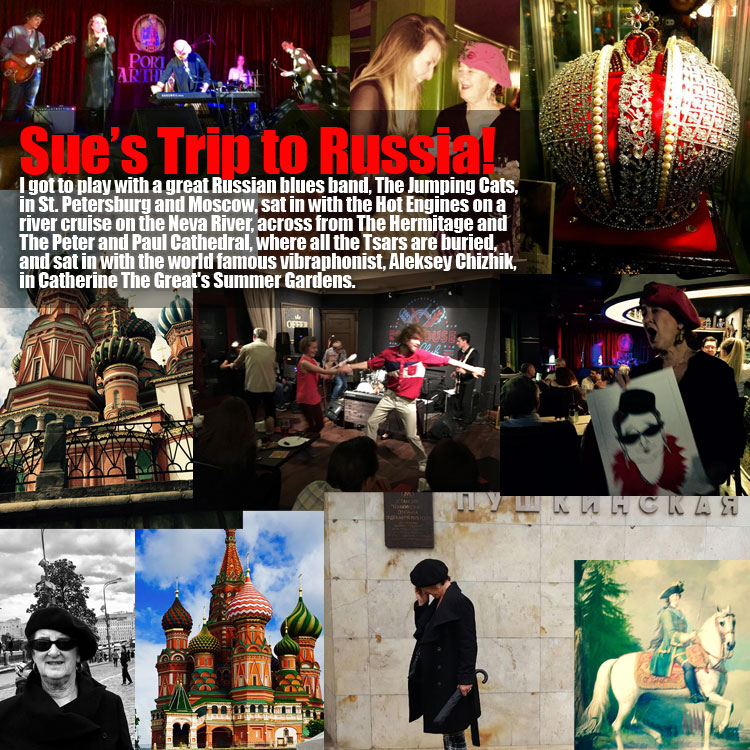 "I knew Sue would be great in Russia, but she exceeded my wildest dreams. Wow!!!," ... L. Barbanell, Russian Tour Guide
"Sue Palmer rocked everybody inside out and upside down yesterday in St. Petersburg," ... Anton Vorogheev, Port Arthur Jazz Club
"After dinner we danced off the calories we consumed to Sue Palmer tunes. She's getting quite a following on the ship,"... Jannette Kutchins, swing dancer, fellow shipmate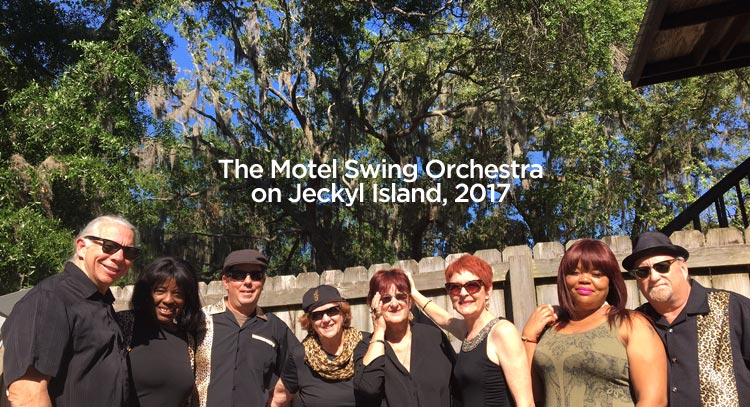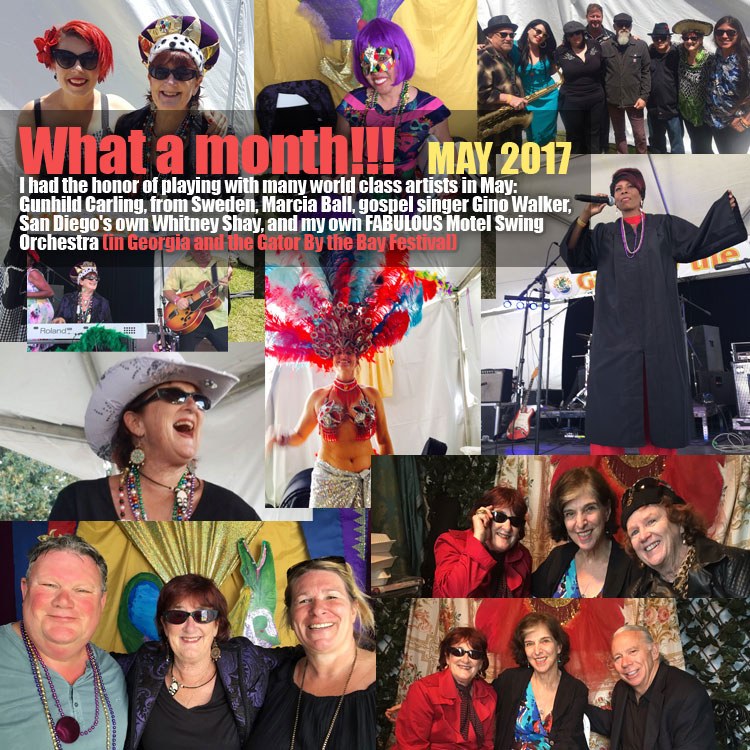 Sue Palmer – Unleashes Boogie Détente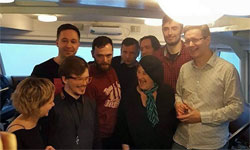 If someone even mentions Russia in conversations these days I find myself looking for the nearest exit and a way out. But not Sue Palmer. Sue has chosen to look beyond the socio-political posturing in order to find a way IN… keyboard first! Known the world over for her prowess on the 88's, Palmer has long been ordained as royalty in the realm of Boogie Woogie. This summer the artist has been using those same talents to open musical back-channels with the world's largest nation. Not only is she building bridges at a time when few are, but Sue is actively pursuing a more permanent and lasting musical relationship with her Russian counterparts.
I know what you're thinking, how does that even happen? "I ended up playing in Russia." Sue says. "Due to my friend, the fabulous guitar player Laura Chavez… Laura was Candye Kane's last musical partner. Laura and Candye met The Jumping Cats (Russian musicians) in one of the Baltic countries and highly recommended that I get in touch. Through the miracle of Facebook, Vladimir Rusinov and I became friends and I eventually ended up with a gig in Moscow at the Roadhouse Blues Club, and one in St. Petersburg at the Port Arthur Jazz Club."
CHECK OUT SUE IN THE DECEMBER 2016 ISSUE OF BOOGIE MAGAZINE!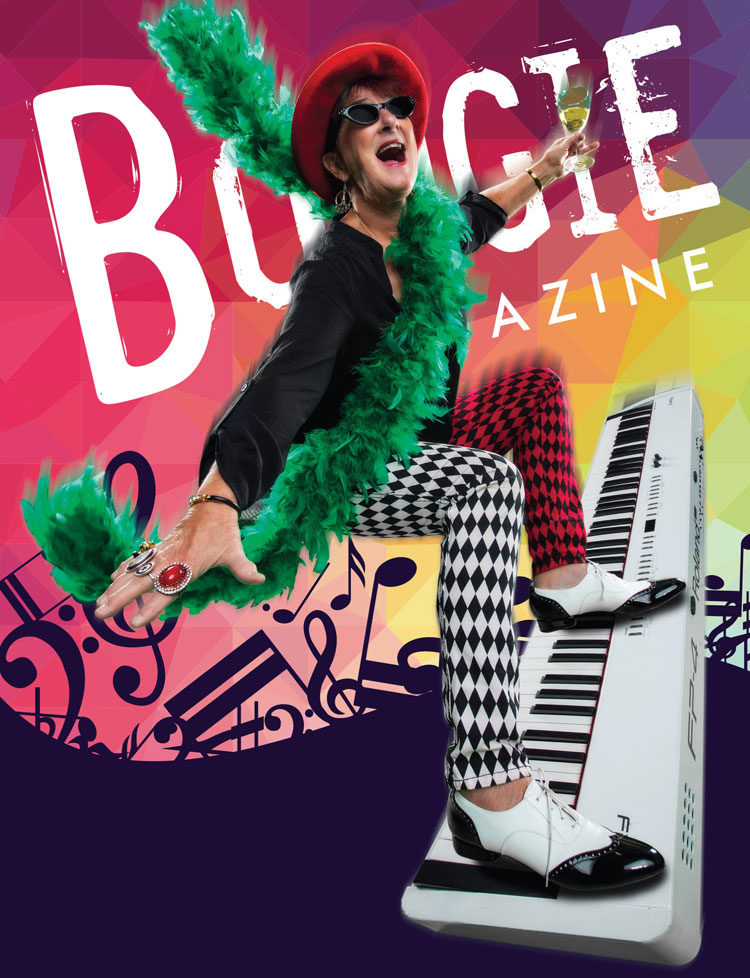 "Known around the planet for her prowess on the keyboard and ordained as royalty in the world of Boogie Woogie, Sue Palmer is an artisan in the purest sense." - Read more at BoogieMagazine.com
---
Sue Palmer with Marcia Ball at 2017 Gator by the Bay
Here's a report from the Queen of Steam, Michele Lundeen: "The Queen of Boogie Woogie Sue Palmer, sat in with Marcia Ball at 2017 Gator By the Bay Zydeco, Blues, and Crawfish Festival and they tore the roof off!! As Sue made her way to the stage, somebody yelled 'Better get a fire extinguisher!'"

Sue Palmer & Her Motel Swing Orchestra "The Thunderbird Sessions". Self Production 2016.
"It is always pleasant to listen to every new proposal coming from this fantastic piano player called Sue Palmer who, once again, gives us a varied selection of big band blues and swing as we are used to find in her recordings. In a small street near Coast Highway 101 in San Diego, California, one can find the Thunderbird Studio where engineer Thomas Yearsley (bass player of The Paladins) has devoted himself to produce and restore the analogue tape where was recorded the amazing concert Sue Palmer And Her Motel Swing Orchestra performed in that studio in front of a selected small audience who had the great chance to be there and enjoy that magnificent show. Thomas has managed to turn this live recording to a real gem that becomes something wonderful and full of an incredible magic, which faithfully reflects all the jump, swing, rock and roll, blues, boogie woogie joy and communicative happiness of those dance orchestras which were so in fashion during the 40's. Twelve songs coming from such great composers like Buddy Johnson, Benny Carter, Earle Hagen or Fats Waller among others, together with a couple of Sue's own compositions and two more by Willie Dixon and Ike Turner. An impressive album where swing flows out thanks to an always inspired and elegant Sue Palmer, backed by her faultless orchestra which manage to give the most overflowing energetic arrangements along the whole recording. GREAT." - LA HORA DEL BLUES, SPAIN
Thunderbird Sessions Nominated
We are very honored that our recent album, The Thunderbird Sessions, was nominated for Best Jazz Album 2017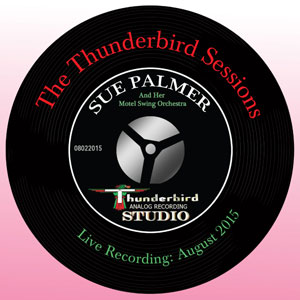 ---
Sue Palmer: Tuesdays, Jan. 3, 10, 24, 31 at Tio Leo's
"The Queen of boogie-woogie piano, Sue Palmer, "The Queen of Boogie Woogie piano will have a Tuesday night residency at Tio Leo's in January. Gracing the cover of this month's Boogie Magazine, Palmer is a local institution and world class talent on the 88's, with a great repertoire of blues, jazz and pop standards. For these Tio Leo's shows, Palmer and her band will specialize in more uptempo numbers, such as New Orleans-styled "I'm Blue," from her latest album, The Thunderbird Sessions, perfect for swing dancing or just a great soundtrack for a mid-week night out." — SDNews.com, by Bart Mendoza
---
Album of the Year 2015 for me
It is a little early; I usually wait until the following February to finalize a choice for AOY to ensure that late-year releases get a full shot; but it is already obvious that nothing is close enough that 20-30 more listenings will push it past this.
And fair warning-- though a born in the 50's, Beatles/Stones/Dylan type, I'm apt to choose any damn thing in a given year-- jazz, country, bluegrass, english folk, famous or obscure-- someday I may even find a rap album I like. I'm as likely to choose Hot Club of Cowtown as Steely Dan, Elaine Summers as the Stones, and I'm as likely to choose choose Patti Scialfa as her husband Broooce-- and in fact the couple both have one win.
Also, transparency-- my copy of this comes directly from the source; I've admired and been slightly acquainted with Ms. Palmer for something like a decade.
But I've never considered any of her other releases in the AOY category before. This one is different. The unit is played in, really a unit now-- Deejha sounds like part of the band to me rather than a really really good singer sitting in with somebody else's band; and Steve Wilcox has been around long enough now that he's gotten something of a transfusion of Charlie Christian and Eddie Lang to go with his already considerable 50's-and- 60's chops. Everybody's in the car now, facing forward; nobody's hanging out the windows or running along side any more, and that just gives it a major extra charge of musicality. That's how it feels to me.
The material is very strong-- Porter and Ellington and Palmer's title track to open, but a variety of types throughout. In all cases the song is served by the band; yet for all that, it is not a band trying out different identities-- the jigsaw all fits together and the band is not subservient to the tunes-- it all belongs in this "Motel Swing" idiom.
If you come to it from a Bonnie Raitt consciousness, "Do Your Duty" will be an entry for you; if you are a Deadhead "East St Louis Toodleoo" will be familiar. If Lyle Lovett or his ancestor Spike Jones is your fave "Down Among the Sheltering Palms" is made to order. If you are a Dixieland fan, guest clarinetist Jean Paul Balmat's New Orleans flavored "Beignets & Bourbon" is the catchiest track on the album; whatever your taste there's something here to whisper in your ear. The material is all around the dial, but it is all on the same clock, and the clock is definitely striking.
If there was any disappointment for me it was a rather idiosyncratic one-- I'm a trombone fan, and the estimable April West is a bit less forward than on previous releases; but against that the drumming of Sharon Shufelt is special-- it has a definite "bubbles in the beer" quality that brings smiles all through, and the saxes of Jonny Viau are, as always, very tasty-- the man is one of the best kept secrets in music-- and Pete Harrison deserves his metaphor too-- I just can't think of the right one at the moment.
A long way to say "5 stars, I strongly recommend this album."
Amazon review by taosjohn, December 13, 2015

"There are plenty of great piano players in San Diego, but no one comes close to capturing the magic of Sue Palmer on the 88's. Palmer is dubbed 'The Queen of Boogie Woogie,' excelling at everything from blues to torch songs, with a particular passion for the sort of tunes that inspire a trip to the dance floor and much merrymaking."
- Bart Mendoza, www.sdnews.com, January 29, 2016
SUE PALMER and her Motel Swing Orchestra: The Thunderbird Sessions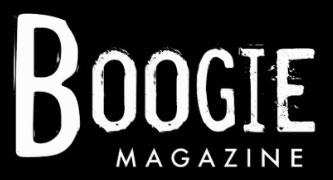 As new as Anthony Cullins is, on the other end of the spectrum is Sue Palmer. She is a long time, venerable San Diego talent with 13 albums, that I counted, to her credit. Known as the "Queen of Boogie-Woogie" she simply sets the standard for authentic boogie-woogie piano, swing and blues. She is a nationally accomplished performer, composer, recording artist and has been a sideman/session player for stars such as Candy Kane, Kim Wilson, Marcia Ball, Toni Price, The Paladins, Roy Gaines, Rosie Flores, Big Sandy and the FlyRite Boys, Dave Alvin, Cesar Rosas (Los Lobos), Earl Thomas, Del Rey, Lea Delaria, Pussy Tourette, Buddy Blue, Rod Piazza & the Mighty Fliers. Heady musical company indeed.
see the whole article here or visit boogiemagazine.com
- by Michael Head, Boogie Magazine, May 2016
SUE PALMER: The Thunderbird Sessions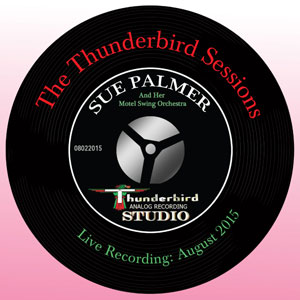 The eloquent words in the liner notes by the host of the "Jazz Ride Home" on KSDS 88.3FM, Claudia Russell aptly describes the live audience setting and atmosphere for pianist and bandleader, Sue Palmer's latest CD, The Thunderbird Sessions. "You drive up Coast Highway 101 from San Diego and turn off onto a little side street to a plain-looking building that looks like its days of magic have long passed. Tucked away in that building is the Thunderbird Studio, where recording engineer Thomas Yearsley racks up two-inch analog reel-to-reel tape to capture the sound of Sue's band, the Motel Swing Orchestra."

The idea of a live video and audio recording was the brainchild of Yearsley and Laura Jane Willcock, lead singer in the Tighten Ups. In Palmer's words: "It was a happening and fun audience with the studio full of creative and inspiring people from all walks of life, all there collaborating in the process of making art." Palmer has been a musical fixture in San Diego since the days of fronting her band, Tobacco Road, which got its start at the Old Time Cafe in Leucadia during the early 1980s, a legendary North County coffeehouse long gone by way of the wrecking ball.

The party wastes no time setting the mood as lead vocalist Deejha Marie Pope busts into a soulful slow blues, "Ladies Shoes," a Palmer original, supported by Jonny Viau's rich tenor sax phrases and guitarist Steve Wilcox's T-Bone Walker-laced licks. Pope's daughter, Sharifah, joins the fray on three R&B standards from the 1950s-early 1960s hit parade, showcasing her deep gospel flavored voice on "That's How I Feel About You," "I'm Blue," and the Ruth Brown hit "Mama He Treats Your Daughter Mean."

Palmer's piano is rollicking throughout the session as she cuts loose on her 1999 upbeat swing instrumental "No Vacancy," embellished with spirited solos by trombonist April West and Viau on tenor. Palmer tears down the house with her deft stride piano moves on her tune, "Sashimi Mimi," not to be outdone by her closing solo track, "Jacob's Boogie Woogie Lullaby," validation of why she's garnered the moniker "Queen of Boogie Woogie.

Viau's tenor sax takes center stage on a cool, slow swing version of "Harlem Nocturne," akin to the original Earle Hagen version, but with all the dulcet tones of the more familiar Viscounts rendition. Pope returns to belt out the Little Richard ditty, "Tutti Frutti" and the minor blues, gospel flavored "My Love," augmented nicely by Viau's gritty baritone sax and drummer Sharon Shufelt and West's lilting vocal harmonies. West gets to step up to the mic for a lead vocal on the standard "Cow Cow Boogie," aided by flurries of hot licks from Wilcox's guitar.

The session is highlighted by the wonderfully arranged version of Fats Waller's "Honeysuckle Rose," anchored by Pete Harrison's upright bass groove, swingin' solos from Palmer and Wilcox, along with the frenetic four-bar Dixieland exchanges from the horns. The overall intuitive musical interplay from all in the Motel Swing Orchestra is a testament to their decade-plus years of playing and staying together.
read more at sandiegotroubadour.com
- Wayne Riker, The Troubadour, March, 2016
A Brick Wall of Swingin' Sound coming to town
Boogie-woogie pianist Sue Palmer and band wrap up La Jolla Cove concert series
As the La Jolla Concerts by the Sea summer music series winds to a close, organizers have surely saved their most energetic act for last — San Diego's own boogie-woogie piano legends, Sue Palmer & Her Motel Swing Orchestra, which are celebrating 15 years together.
The band's resilience and solid musicianship has paid off, as their performances are packed with generations of music fans and a core of dedicated swing dancers who 
follow them around, just looking for an 
excuse to cut loose.
"They kept me in business through the recession," Palmer confided of her dancing devotees. "When you get a couple of the ringleaders, then all 20 or 30 of them will come — and that's enough for a club to really think something's happening. My band is just fabulous. In some ways, I think my band stays together because I continue to get work."
Palmer's longtime guitarist, Steve Wilcox, credits the band's longevity to Palmer's business acumen and the musicians' longstanding friendship.
by Pat Sherman - La Jolla Light - Sept, 2015
---
Glass Talk Glass... Paint... Swing!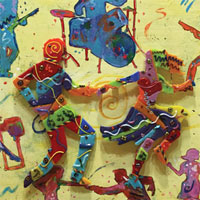 Photography by Mel Gillum, Bonnie Owen, Nick Nichols, and Leslie Perlis
Oil painter Bonnie Owen, glass artist Leslie Perlis, keyboardist Sue Palmer, and dance instructor Jannette Kutchins recently joined forces to produce a unique event and experiment for their community. This fun, memorable reception combined a mixed media exhibition with the chance for attendees to be introduced to swing dancing.
This article was originally published on page 44 of the July/August 2016 issue of Glass Art.
- by Leslie Perlis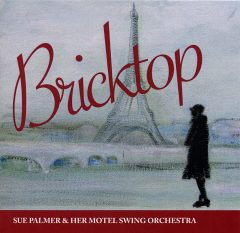 Whenever I think of San Diego, I think of fun. We have the beaches and sunshine. We have the mountains, Sea World, the Zoo, and have gone macro over microbrews. Our biggest shindig every year is Comic Con, when we have all kinds of fun with comics, movies, and cosplay. And ever since I moved here decades ago, the music scene has been a fun and friendly place, too.
One person who personifies this fun approach to music is Sue Palmer. From her time with the old-time band Tobacco Road to her collaborations with blues vocalist Candye Kane, San Diego's Queen of Boogie Woogie piano can be counted on for enjoyable music that is delivered with a smile and occasionally a laugh.
For a number of years Palmer has fronted the Motel Swing Orchestra, a collection of a half dozen folks who share Palmer's enthusiasm for good, enjoyable music. Their latest CD, Bricktop, is a collection of 11 tunes that will chase the blues away, get some folks up and dancing, and get a few more to sing along.
The Orchestra performs a mid-tempo version of Cole Porter's "I Love Paris" that allows singer Deejha Marie some room for a playful interpretation on the lyrics. Following the genius of Porter is the genius of Duke Ellington, as Phil Shopoff's trumpet ushers the band through a plucky and jaunty take on Ellington's "East Saint Louis Toodle-oo."
Steve Wilcox receives the spotlight with his ever-so-crunchy retro guitar sound on Tiny Grimes' minor blues tune "Swinging Mama." Throughout the disc Jonny Viau demonstrates his street cred as an R&B sax player, particularly on the rocking "Frankie and Johnny." And Deejha Marie really shines on the soulful bluesy "If You're Lonely."
The Orchestra reaches all the way back to 1914 for the tropical "Down Among the Sheltering Palms." Made famous by the Boswell Sisters in 1932, the Orchestra gives it its island best, including a ukulele solo from bassist Pete Harrison.
Besides the hits from the long ago, Bricktop features some new tunes as well. The title tune, which opens the disk, is a lively swing tune by Palmer, who has always been clever and inventive with her compositions. Candye Kane joins the orchestra for her self-penned "Misunderstood." The lyrics and Kane's vulnerable interpretation result in an unusual degree of self-revelation from the blues artist.
Jean Paul Balmat, who becomes almost an Orchestra member, contributing clarinet, alto sax, and baritone sax on six of the 11 tunes, gives us "Beignets and Bourbon," which demonstrates his intense love of New Orleans style music.
Closing the disk is a lightly swinging version of "Dark Eyes," in which April West proves that she is the best trombonist 'round these parts. And, before I forget, unless Jeff Hamilton is in town, you wont find a better drummer than Sharon Shufelt in San Diego. All in all, Bricktop is guaranteed to please anyone who has grown to love Sue Palmer, the Motel Swing Orchestra, and the music that they make.
by Paul Hormick - San Diego Troubadour - July 2015
---
Of all the performances I have done in the last 40 years, probably my favorite and most memorable is a Boogie Woogie Show I did with 3 other piano players: my pal Wendy DeWitt from the Bay area in Northern California, Philippe Lejeune from France, and the legendary Hadda Brooks. This took place at Chuck Perrin's original Dizzy's on 7th Avenue, in Downtown San Diego, July 2002. It was Hadda's penultimate performance, and she died 2 months later, at the age of 86.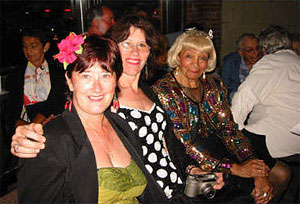 Sue Palmer, Wendy DeWitt and Hadda Brooks, San Diego, 2002
Hadda Brooks came out of a long tradition of women playing piano and singing in the late '40s and early '50s. Women like Nellie Lutcher, Camille Howard, and Julia Lee, just to mention a few. All are some of my favorite musicians. Hadda grew up in Boyle Heights, Los Angeles, in a middle class African-American family. Her mother was a doctor and her father was a Deputy Sheriff. She received classical piano lessons as a child and, in her late teens, took up boogie woogie. Eventually she became a big star on Central Avenue in LA, playing with Count Basie, Artie Shaw, and Charlie Barnett's orchestras. She was the 2nd African American woman to have her own TV show, airing on LA's KCOP-TV in 1957. She was billed as Queen of the Boogie, although was known for her ballads as well. She recorded exactly 100 songs between 1945-1953. She performed in several movies, mostly as a sultry cabaret singer/piano player, essentially as herself. Perhaps the most well known was a film noir, black and white feature, starring Humphrey Bogart, called "In a Lonely Place." She played and sang one of her well known hits called "I Hadn't Anyone Til You." Other songs she was known for include "Swingin' the Boogie," "Anytime, Anyplace, Anywhere," "That's My Desire," "I Feel So Good," "Don't You Think I Ought to Know," "Bully Wully Boogie," and many more. On her 80th birthday, she played at Johnny Depp's Viper Room, in Hollywood.
Now, back to 2002.
The show at Dizzy's was well publicized and completely sold out. Hadda was brought to the club by two old friends of hers, photographer Helen Montgomery Drysdale and her partner, singer Dayna Carroll. There was a huge buzz in the audience as the three ladies were seated near the stage. There was Hadda looking glamorous, even at 86, with her blonde wig and butterfly combs in her hair. A beautiful photograph (taken by Drysdale) was projected behind the stage, of Hadda with a crown on. She was a queen, after all. As the San Diego pianist, I was the hostess, so I started the show. Each of us were to play 20 minutes. Hadda would close the show. As I began playing Ray Charles' tune, "Rockhouse," I heard a gasp from the audience. Shortly thereafter, Hadda sat down on my bench and began playing with me!! She was right on the money, both playing the right side and the left. She actually got up and played the left hand part after a while. She was very funny and her comedic timing was perfect. I was both surprised and extremely honored. The whole night was magical, with great performances from Wendy and Philippe also. Fortunately, we got a lot of it on video.
Enjoy!
Sue Palmer

"I just want to say these are some of the most wonderful boogie woogie players I've heard in a long time."
— Hadda Brooks on July 7, 2002, Dizzy's, San Diego

Video by Jacqueline Tonnaer
Check out this video from the Ladies Shoes Blues Revue at the Gator by the Bay Festival 2014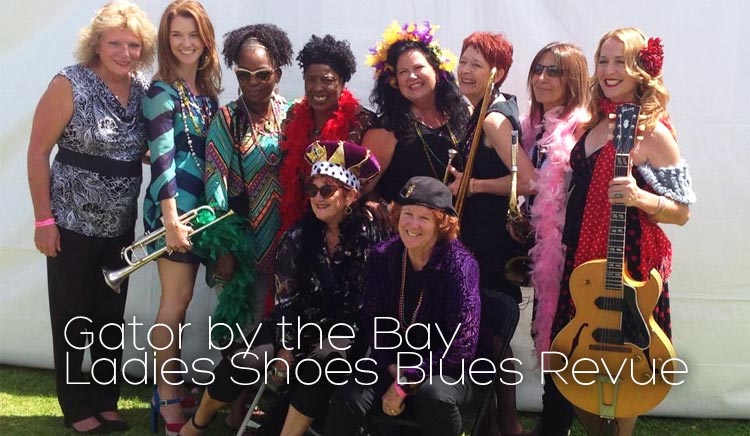 Listen to my interview with Ron J. Jones at VOLJ.net

if you cannot see the audio player, listen here
Sue Palmer & Her Motel Swing Orchestra Close Out Our 2014 Season With A Bang!

...definitely not a whimper! Last Sunday, Sue Palmer and Her Motel Swing Orchestra descended upon La Jolla Cove to delight, excite and MOVE our La Jolla Concerts By the Sea crowd. Thanks to the kind continued support of White Sands who sponsored the show, we were treated to a couple of rollicking hours of great music, dance and laughs. (These guys have a lot of fun on stage!)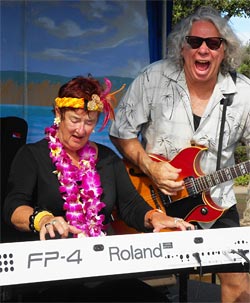 Sue Palmer, San Diego's legendary Queen of Boogie Woogie has been a busy gal. She's been distributing her brand of raucous fun piano styling to such diverse locales as Yoshi's in the bay area, the Americana Blues Festival in Georgia, our own San Diego Blues Festival and our Gator By the Bay (with her all gal band Lady's Shoes Blues Review) and even joined Switzerland's "Ambassador of Boogie Woogie" Sylvan Zing in his native country for his international boogie woogie festival! She's also got a jazz radio program "San Diego sessions with Sue Palmer" on KSDS Jazz 88. (Sun. 5pm) Well, last weekend, she and her bunch brought it to our little hometown and lots of fun ensued.

Their repertoire ran the gamut from a very cool "Pink Panther" to "Boogie Woogie Bugle Boy" (of course) which introduced mother-daughter singing team Deejha Marie & Sarifah on vocals whose talent and enthusiasm charged up the already energized audience.

All members are top-notch local San Diego talent and together they blew the roof off our last summer concert. From the smallest child to the most senior of participants, our dance floor was filled with a multi-generational mix of folk who couldn't keep their feet still due to the onslaught from the stage. Ya just had to dance!

Oh, and speaking of sue's doings, here's one for you. Longtime fans as well as new converts. something really cool is coming up for Sue and her crew. This is a great way to spend New Year's Eve this year. Sue and Motel Swing are going to be the centerpiece at the Casa Del Zorro in Borrego Springs for a great end of the year blowout. So book your rooms and get your tickets now for what promises to be a great way to welcome in 2015 in our beautiful Anza Borrego Desert.

On a personal note, I enjoyed an extended after concert chat with Sue's man with the guitar, Mr. Steve Wilcox when he joined my daughter Amethyst (an avid music fan, rabid vinyl junkie and burgeoning musicologist) and myself for a leisurely nearby rooftop "rest & relax" session where we vigorously talked music and guitars under the glorious La Jolla sunshine.

Now on a somewhat sad note…what this concert represents is the fact that our 2014 Summer Concerts season has come to and end. (And what an end!) We are all extremely grateful for all the nice folks involved in La Jolla Concerts By the Sea who made this season such a success: our great sponsors, our tireless board and volunteers, all of the great bands who entertained us and, of course, YOU…our awesome audience without whom…well, after all, what would be the point without you?
La Jolla Concerts by the Sea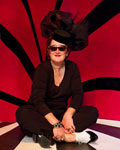 "Pianist Sue Palmer appears at Kona Kai's Vessel Lounge March 12th. A beloved member of San Diego's Arts Community, Palmer is also one of the city's musical treasures. A multiple San Diego Music Award winner known as "Queen of Boogie Woogie," that tag actually touches on her talents. Indeed, she is a virtuoso performer, able to thrill in just about any genre. Her most recent album, 'Party Favorites,' finds her playing cool versions of classic tunes, including jazzy cuts like "The Pink Panther, and evergreens like 'Don't Get Around Much Anymore,' definitely the soundtrack to a good time..."
Bart Mendoza, SDNews.com, Live Music ~ Feb 21-Mar 6, 2014
Sue Palmer was featured in this Emmy Award Winning Fox5 News segment "The Queen of Boogie Woogie" - check it out!
Second Time Around Just as Good as First for Bassist Coleman
SAN DIEGO — To five of the six members of the vintage jazz band Tobacco Road, the musical memories they've been stirring up in local nightclubs for the past six years are someone else's.
After all, most of the syncopated "hot jazz," festive boogie-woogie and smooth swing numbers that the band members play date back to the 1930s and '40s--when they were mere twinkles in somebody's eye.
But to 70-year-old Preston Coleman, who has been singing and playing stand-up bass with Tobacco Road since its inception in 1982, many of those memories are his own.
Indeed, some of the songs in the San Diego group's repertoire, like Clarence Williams' "Bonus in Love," were contemporary favorites when Coleman first played them with his Chicago high school jazz ensemble in the 1930s. And still other oldies resurrected by Tobacco Road--like "Swingin' All Day"--Coleman himself helped popularize while touring in the early 1940s with Cats and the Fiddle, a 14-piece big band that frequently headlined the legendary Apollo Theater in Harlem.
February 22, 1988 | THOMAS K. ARNOLD, Los Angeles Times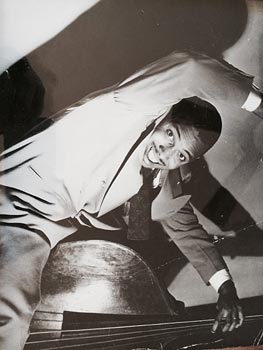 Rollicking Musical Journey with Sue Palmer
The best pianist in San Diego? That's a tough call, but near the top of the list would have to be boogie woogie queen Sue Palmer. A virtuoso in just about every style of piano playing there is, Palmer's secret to success is her great stage persona, which makes everybody her friend, long for a rollicking musical journey. She performs on Dec. 18 as part of the annual KSDS / Jazz 88 Christmas Party at the Lafayette Hotel. Anyone who's seen her perform, wowing crowds of all ages, knows what a major talent Palmer is, as well as how luck San Diego is to have her in our music community.
North Park News, Bart Mendoza, December, 2014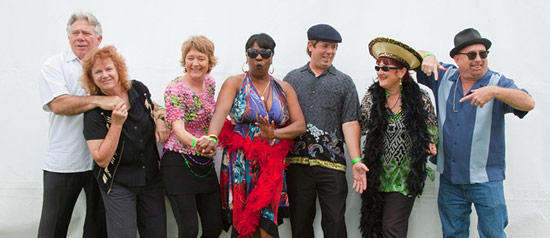 SUE PALMER AND HER MOTEL SWING ORCHESTRA play the Summer in the Park Concert on August 2nd, 2013
"What can we say new about Sue Palmer? Well, let's try - we bring her back year after year to pleasure us with her unique keyboard style and great backup band and vocalists. Furthermore, there is no better way to end our concert series 'cause people will come back again knowing that Sue's on our band list! A local legend with more than enough fans to fill the Rose Bowl let alone our Trolley Barn Park to overflowing, Sue has been making her mark over many years with her high energy band and her flashy boogie woogie stylings. She has won numerous San Diego awards for her albums including Best Blues Album 2010 for her first solo piano album After Hours. In January of this year she began her reign as host of the San Diego Sessions hour on KSDS, which airs every Sunday at 5 pm. Join the fun and dance your troubles away on this last concert in our 2013 series and, better yet, purchase one or more of her CDs to keep you in the mood until next year's concerts."
Sponsored by Tony Azar and Presidio Veterinary Hospital ~ Community Appreciation Night
The Queen of Boogie Woogie Is on the Air
"Hi everybody, welcome to San Diego Sessions, I'm Sue Palmer." And with those words on Sunday, January 27, 2013, local piano legend Sue Palmer began her reign as host of the "San Diego Sessions" hour on KSDS (Jazz 88.3 on the FM dial), which airs at 5 p.m. every Sunday evening. Palmer takes over the controls following a 15-month stint hosted by Union-Tribune pop music critic, George Varga. "As a San Diego native, I have heard wonderful music here all my life," Palmer stated. "This is a giant opportunity for me to both learn more and also share some of my knowledge about San Diegans, past and present." KSDS station manager, Mark DeBoskey, proclaimed his joy in having Palmer on the KSDS team. "To me, it's one of my very favorite shows that Jazz 88.3 airs," DeBoskey said. "San Diego is home to so many wonderful jazz and blues musicians, so having one of the very best present their work on a weekly basis adds to the opportunity in exposing San Diego's musical creativity, both locally and globally via our large Internet listening audience." Palmer joins a station that is a rare breed these days, broadcasting 24/7, presenting an eclectic range of authentic mainstream jazz, including a wide variety of traditional and progressive styles, from big band, swing and blues, to bebop, cool, fusion, and more, along with the 2011 honor of "JazzWeek Large Market Station" of the year.
Program director and long-running host of the "Jazz Ride Home" late afternoon show, Claudia Russell, had a big part in nabbing Palmer for the Sunday evening show. "She's a consummate musician. She's led bands, held side gigs, has hit stages solo, while all the while managing the ins and outs of the music business as both a performer and recording artist… and she is local," Russell emphasized. "She's been steeped in the jazz and blues scene her entire life. Her interest in the music and the artists really does run deep; as she's able to appreciate the history of this town's culture in addition to hearing what is new and upcoming in radio. We like people who have big ears," she continued, "the ability to hear good sounds in music, both old and new. In addition, she has a great personality. It was a real bummer to see George Varga go, not an easy chair to fill, but fortunately the timing worked out perfectly for Sue," Russell concluded.
Read the rest at SanDiegoTroubadour.com
--SanDiegoTroubadour.com, March 2013, by By Wayne Riker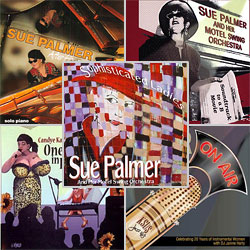 LA HORA DEL BLUES RADIO SHOW: Barcelona, Spain
review by Vincente Zumel, 2013 Keeping the Blues Alive recipient
For ten years Sue Palmer has been the usual piano player in the band of great singer, amazing entertainer and show woman Candye Kane. Together they have visited many countries in Europe including France, Greece, Turkey, Scandinavia, etc and have also travelled to Canada, Australia and many other countries, not to mention their extensive tours around United States. Now Palmer comes with five excellent albums, where she shows she can play many different styles, with an special accent on swing, blues, rock and, of course, boogie woogie she has an especial taste for. Before some followers of my reviews ask me to describe what boogie-woogie is and talk about the development of this musical genre, let me write a few lines about the technique and history of boogie-woogie to make listeners understand better the music Sue Palmer performs in some songs of these five albums. Boogie-woogie is a kind of piano playing of an Afroamerican origin that exclusively uses the eight and twelve bars patterns of classic blues. It employs a non-stop striking rhythm figures played with the left hand, while the right hand makes a constant series of quick, captivating evocative sticky notes and draws melodic patterns. The result is a rich polyphony, with a vigorous rhythmic pulse and a powerful, swinging captivating expression, which sometimes reaches an irresistible and frantic climax difficult to control. Boogie-woogie was born in the mid 20's in the south of the USA and expanded to Midwest, especially in St. Louis and Kansas City, to finally settle in Chicago until little by little and gradually disappeared at the end of the 40's. Among the many great piano players who represent this style, the most reputed and popular ones undoubtedly were Albert Ammons, Meade 'Lux' Lewis and Pete Johnson. You will find In each and every one of these five cds an excellent rooster of songs, including very careful arrangements, perfectly performed by a bunch of very professional musicians who back her, with the exception of the album "After Hours", where she plays alone only backed by an acoustic grand piano, giving us a selection of delicious blues and boogies, completely different from the music included in the other records, which are more focused on the forties and fifties swing, or in the album "One Night In Belgium" where you will find Candye Kane as a singer, with a mixture of rock, rhythm and blues and Americana music, but always with the boogie-woogie surrounding the whole record, like in the song "Boogie Woogie Country Girl". You may know Sue Palmer is considered as one of the best actual players of this musical style, together with Wendy DeWitt, Lisa Otey, Doña Oxford, Marcia Ball and some other more, who have all reached the honor to be the 21st Century 'Queens Of Boogie-Woogie'. In short words, here are five amazing cd's, that bring us excellent samples of her personal elegance, whether playing alone, surrounded by a full orchestra or simply backing singer Candye Kane. GREAT.
SUE PALMER & HER MOTEL SWING ORCHESTRA: Party Favorites
Anyone who has been to a show by Sue Palmer and her Motel Swing Orchestra will let you know that this ensemble is a rambunctious crew, prone to spontaneous outbursts and high-energy performances. And though all the veteran musicians of the Orchestra have been with the ensemble for years and years, the enthusiasm and sense of fun that have distinguished this band since its inception still shine.
The good times continue with Party Favorites, the latest release from Palmer and her Orchestra. Though a studio effort, recorded at PHPRO Music, and engineered by Pete Harrison (Hey, wait a minute. Isn't he the MSO bass player?), Party Favorites nonetheless captures the excitement and joy of one of the MSO's live performances. Packed with 11 gems from decades past – there are hits from Glen Miller, Duke Ellington, and the Andrews Sisters, as well as a few more recent offerings – toes are ensured to tap and some folks might even get their dancing shoes on.
The rhythm section of drummer Sharon Shufelt and Pete Harrison on bass remains solid. Shufelt plays with pizzazz, and Harrison defines a solid down beat. I particularly liked the swampy New Orleans feel that they give "Lovey Dovey," a 1950's hit from the Clovers that opens the disk. As well, it's a nice touch for Harrison to use his bass to introduce the melody on "Don't Get Around Much Anymore." I've always liked Steve Wilcox's guitar playing. He draws on some of the best blues masters of the fifties. And his retro sound and approach add an intriguing edge to the band's take on Henry Mancini's theme to the Pink Panther.
Deejha Marie has always been a self-assured singer, comfortable with her phrasing and delivery. Her approach exemplifies confidence and élan, and nowhere is this more evident than on Party Favorites. With an easy delivery, trombonist April West sings "Cow Cow Boogie." Whoda thunk that this talented instrumentalist, who does some really fine soloing when she's playing her horn, could sing? While we're talking about singers, the addition of Sharifah Muhammad adds a new dimension to the MSO. Her powerful and dynamic delivery reignites the soul of the Ray Charles' classic "Nighttime Is the Right Time." I can't help but think, "Wow!" when I hear this young woman sing.
As with fine wine and artwork by dead painters, there are some notable things about the Motel Swing Orchestra that have improved with age. The vocal harmonies are silky smooth, in particular on "Lovey Dovey," which opens the disk, and the Yiddish-based jazz standard "Bei Mir Bist Du Schoen." And of course, with her boogie-woogie piano serving as the backbone of the Motel Swing Orchestra, there is the woman who brings it all together: Sue Palmer. There is a lot to be said for someone who can lead a band for years and years and keep the music as fun and exciting as it ever was.
--SanDiegoTroubadour.com, October 2012, by Paul Hormick



When Sue Palmer throws a party, you'd better not be sitting down. You'll get knocked into next week, because the dancers will be swingin' and they'll need lots of room.
As a treat for her fans, the longtime San Diego-based pianist known as the "Queen of Boogie Woogie" has just released a new CD, appropriately titled "Party Favorites." Backed by her Motel Swing Orchestra, which includes sax man Jonny Viau, bassist Pete Harrison, drummer Sharon Shufelt, guitarist Steve Wilcox and trombonist April West, Palmer leads the way on such swing classics as "Chattanooga Choo Choo," "Cow Cow Boogie," "Don't Get Around Much Anymore" and "Boogie Woogie Bugle Boy." There's also a cover of "The Nighttime is the Right Time," which was a hit for Ray Charles, and a tune called "Lovey Dovey." "A lot of people in New Orleans played that one," said Palmer. "We play it R&B style."
Palmer, who will perform Sunday Aug. 26 at Scripps Park as part of the La Jolla Concerts by the Sea series, has been keeping "old-fashioned stuff" cool, musically speaking, for more than 20 years. "It's a feel," she said, trying to put boogie woogie into words, though you get the feeling she'd rather be playing it any old day than trying, albeit goodnaturedly, to explain it. "It's got lots of meat to it. You can tap your foot. It makes you want to get up and shake."
--La Jolla Light, August 23, 2012, by David L. Coddon

Sue Palmer, Queen of Boogie Woogie
Long-anointed the Queen of Boogie Woogie, Sue Palmer got her first taste of fame while touring the world with blues-diva Candye Kane, even if she didn't connect the dots with her own rising celebrity.
"I met lots of wonderful, famous people," she says, "especially through playing exclusively with Candye in the '90s, but I'm not much of a celebrity stalker." Palmer also served as musical director for The Toughest Girl Alive, Kane's autobiographical play that opened in 2010 at the Moxie in San Diego before moving on to NYC. The duo still frequently performs together, most recently at the March 24 Croce's benefit concert to raise money for expenses related to Kane's upcoming cancer surgery.
Palmer's local cred was initially attained while fronting Tobacco Road, which won seven San Diego Music Awards from 1986 through 1994. She went on to play with a roster of national female headliners, including Marcia Ball, Jeannie Cheatham, and Caroline Dahl.
Now a local legend with the trophy shelf to prove it, Palmer's Sophisticated Ladies (featuring her seven-piece Motel Swing Orchestra) took home Best Self-Produced Album at the 2008 International Blues Challenge in Memphis, and her After Hours full-length won Best Blues Album at the 2010 San Diego Music Awards.
--The Reader, March 28, 2012, by Jay Allen Sanford
"After a long waiting period, these two musical partners have finally released their 1999 session recorded in concert at a small club in Eeklo, Belgium. It features Candye Kane's robust voice out front, with Sue Palmer's rhythmic boogie-woogie piano alongside, as th interpret memorable blues, torch songs, and several original pieces. Both artists are in top form here as they rollick and pay homage to the women in history who sang jazz, gospel, and blues, in "a man's world" many decades ago: songs associated with Julia Lee, Billie Holiday, Peggy Lee, Ella Fitzgerald, Pearl Bailey, and others.
Kane sings "Gimme a Pigfoot and a Bottle of Beer" with its built-in innuendo about a woman's perspective in a juke joint, "Don't Cry Sister" with its blues lament aimed at women who've got man trouble (actually this song is about a robbery), and "The Lady is a Tramp," with its tongue in cheek message about respect. Palmer rattles the piano's keyboard hard and maintains a focused drive throughout. Together, they insure that each selection carries not only a historical blues perspective, but also a rhythmic flow that drives the stories home. Kane and Palmer show an intuitive sense that makes the program roll seamlessly from start to finish."
--Southland Blues Magazine, January 2012, by Jim Santella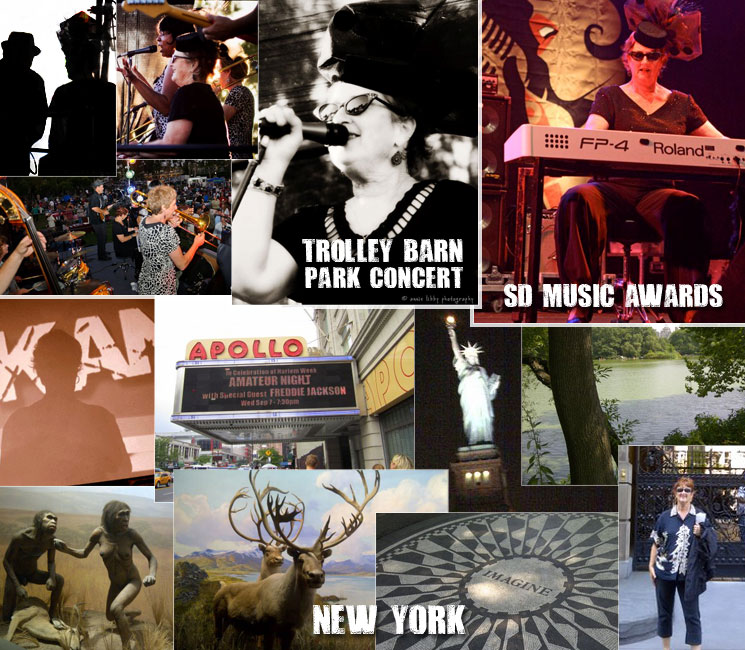 Highlights of August include Trolley Barn Park Concert, San Diego Music Awards performance,
and Candye Kane's play, "Toughest Girl Alive" at the Fringe Fest in NYC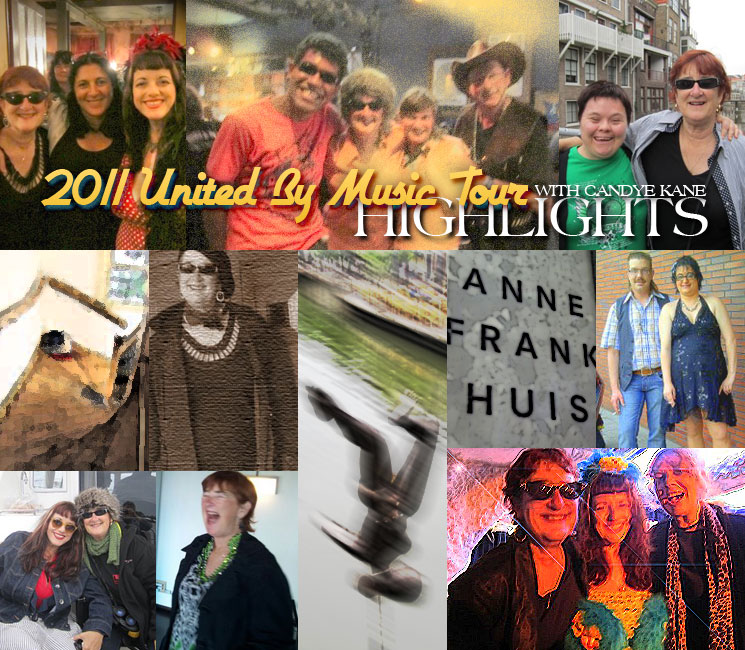 Beyond the Valley of the Dolls
bluesrevue.com/2011/10/candye-kane-sue-palmer-one-night-in-belgium-10-7-11
Sue Palmer is San Diego's Queen of Boogie Woogie piano. She was previously a member of Candye Kane's band when they were still called the Swingin' Armadillos and she appears on four of Kane's albums including Diva La Grande and 1998's Swango. Palmer also has seven albums in her own name, including last year's Honky Tonk Rockabilly Blues by Sue Palmer with The Hayriders. In 2010 Kane and Palmer we're re-united as Palmer was hired to be musical director of The Toughest Girl Alive, Kane's autobiographical play that was recently part of New York City's Fringe Festival.
There is a certain simpatico that exists when Kane and Palmer are on stage together. Such was the case back in 1999 when Kane and Palmer appeared One Night in Belgium. Kane is an enormously talented vocalist whose set, primarily of covers, includes Bessie Smith's "Gimme a Pigfoot and a Bottle of Beer"; two songs from Billie Holiday, including "Lover Man"; Rodgers and Hart's "The Lady is a Tramp"; Etta James' "Only Time Will Tell"; Julie London's "Cry Me a River"; Doc Pomus' "Boogie Woogie Country Girl"; and, The Mamas & Papas' "Dream A Little Dream." The remainder of the song selection is just as interesting. Throughout this intimate 44-minute set Palmer's left hand performs miracles.
Kane's brand new studio album on Delta Groove Records is Sister Vagabond. Co-produced with her guitarist Laura Chavez that album is receiving significant attention and airplay. Also just released is this older live set which recently received a San Diego Music Award nomination as Best Jazz Album of 2011. For another intimate look at Kane's vocal talents One Night in Belgium is highly recommended.
Richard Ludmerer is a contributing editor at BluesWax.
Candye Kane & Sue Palmer's telepathic musical rapport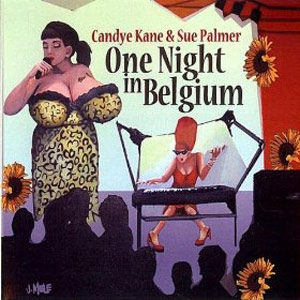 When Candye Kane and Sue Palmer perform Saturday night at the Marble Room downtown and Monday night at the 21st annual San Diego Music Awards at Humphrey's, they'll be continuing a vibrant musical partnership that is now in its 20th year.
Kane, a boisterous, sometimes bawdy singer, with a big voice and an even bigger heart, first began playing with ace pianist Palmer in 1991 at the Belly Up in Solana Beach. Their near-telepathic musical rapport was immediately apparent, fueled by their shared passion for blues, boogie-woogie, swing, jump-blues and other earthy American music styles.
You can savor that rapport on the recently released "One Night in Belgium," an intimate live duo album Kane and Palmer recorded in 1999 in Eeklo, Belgium. Due out Aug. 16 is Kane's blues-drenched "Sister Vagabond," a full band (plus musical guests) collection that is one of the strongest in her rock-solid discography.
Later this month, Kane, Palmer, guitarist Laura Chavez, Kane's rhythm section and two actors head east for the 14th annual New York International Fringe Festival. From Aug. 12-28, they'll in residence at Manhattan's Le Poisson Rouge, performing "The Toughest Girl Alive!" A musical based on Kane's eye-popping, soul-trying life, "Alive! debuted here in January at Moxie Theatre, where it played a sold-out run. (She is still seeking donations on her web site to help fund the trip.)
If Kane is diminished, three years after undergoing extensive medical treatment for pancreatic cancer, it's hard to tell (even though her battle against cancer remains an ongoing one). This 10-time San Diego Music Award-winner is a fighter, if not the toughest girl alive, and she's also doing a free, all-ages Concerts on the Green show Sunday at Pacific Beach's Kate Sessions Park (info: pbconcerts.org).
Palmer last year released an enchanting solo piano album, "After Hours," and continues to lead her rollicking Motel Swing Orchestra. The four-woman, three-man group performs a free, all-ages show Friday night at Trolley Barn Park in University Heights (info: normalheights.org/parks/trolleybarnpark/).
--SignOnSanDiego.com, August 2011, by George Varga
Candye Kane & Sue Palmer: One Night in Belgium
With a voice the size of the Louisiana Purchase, Candye Kane has belted out hard-driving jump blues for the last 20 plus years. She has also surrounded herself with some of the best blues and jazz musicians to be found in San Diego. Among the side personnel for her performances and recordings has been Sue Palmer, who has so often served up her signature barrelhouse boogie-woogie piano in Kane's ensembles – while decked out in a stratospheric beehive and ever-so-cool cheap shades – that she can be thought of as a mainstay of Kane's music.
Besides performing locally, their music has taken Kane and Palmer on tours across the country as well as overseas. From a recording made at a European concert in 1999, in which Kane and Palmer perform as a duo, the two women have released the disk One Night in Belgium. Nominated for best jazz album for this year's San Diego Music Awards, this CD will certainly please any fan of Kane or Palmer.
By the time this recording was made, the two women had been performing together for at least a decade, and the melding of their talents and comfort with each other is apparent throughout the disk. The singing and playing is solid and assured. Kane's powerful voice is well-suited to having an entire ensemble, with the amplifiers cranked, backing her up. Palmer nonetheless keeps the piano playing up on forté for the hard-driving tunes, comping the singer with some barreling riffs and licks.
Besides the blues, the disk contains swing, old jazz standards, and ballads. Kane and Palmer revisit such chestnuts as "Dream a Little Dream" and "The Lady Is a Tramp." A few tunes are played for laughs. "Dragnet for Jesus" in particular brings out the LOLs. The variety keeps the disk fresh from tune to tune, and both women prove adept at switching gears into these other genres.
--SanDiegoTroubadour.com, August 2011, by Paul Hormick

Mark it up to a higher power that Candye Kane and Sue Palmer found each other. This live recording from a rainy night in Eeklo, Belgium, reveals the undeniable truth that the sum of Candye and Sue is greater than its two parts. They have almost telepathic communication skills that come not from practice, but from listening and respecting each other.
Here, they ease through standards such as "The Lady is a Tramp," "Cry Me a River," and "Dream a Little Dream," but they also throwdown on the honky tonker "I Left My Heart In Texas," which seems like it should havg4e been inn some western movie bar scene with Handsome cowboys swooning over Candye.
There's some barrelhouse here on "Don't Cry Sister," and boogie-woogie on "Boogie Woogie Country Girl," but the style of music doesn't seem to matter. Candye and Sue have a special relationship that allows top-shelf display of their sterling talents.
This is wonderful collaboration, a singer who has such purity in her voice and a pianist whose musical vocabulary can summon just the proper tone, touch and nuance to accent the singer. Partnerships don't come any better than this. Michael Kinsman, Blue Ink, August, 2011
--Blue Ink, August 2011, by Michael Kinsman

Sue wishes to thank all her fans who came to the world premiere of Candye Kane's play "Toughest Girl Alive," which played to sold out crowds and terrific reviews. What an experience!! Moxie Theatre put together a fantasic group of talented people from so many genres. It was a pleasure being part of it.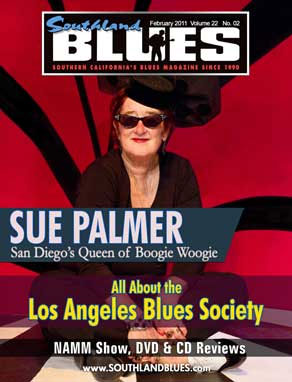 Sue Palmer - "San Diego's Queen of Boogie Woogie"
Thirty years in the music industry is a long time for any performer, particularly for blues artists and especially for women blues performers. For Sue Palmer, the "Queen of Boogie Woogie," it's been a star-studded blues career with many rewards and awards. The swing, blues and boogie-woogie piano player has toured the world and played music festivals throughout the U.S. and Europe as the pianist for blues diva Candye Kane. But it's her solo and band recording as Sue Palmer and Her Motel Swing Orchestra that have generated the most awards. Her fourth release, Sophisticated Lady won an International Blues Challenge Award for "Best Self Produced CD" in 2008, her third release, Live at Dizzy's won "Best Blues Album 2002/2003 and her solo piano album, Sue Palmer After Hours won "Best Blues Album 2010" from the San Diego Music Awards.
The San Diego native even had a day named for her by the San Diego City Council: March 25th, 2008 was officially declared "Sue Palmer Day" for her many years of cultural contributions playing the city's festivals, clubs and celebrations. Following her most recent award in 2010, Sue received the "Jim Croce Music Award" for excellence and dedication to music from the late recording artist's widow, Ingrid Croce, owner of San Diego's jazz/blues club Croce's Bar and Restaurant.
"They call me the 'Queen of Boogie Woogie'" says Sue, speaking about her career. "As far as the future, I'd like to take that title as far as I can."
Sue got started in music early. She was born into a musical family which encouraged her to express herself through music. Her early role models were her musical aunts: a saxophonist and piano player and her mother who played percussion. Says Sue, "It was kind of required to participate musically; that's what we did when we got together."
Later, her role models included swinging blues and boogie woogie recording artists Hadda Brooks, Julia Lee, and Camille Howard along with Elvis Presley, Ray Charles, Count Basie and Duke Ellington.
After graduating high school, she became politically active in the Women's Movement where she was able to showcase her talents playing at local meetings and events. Playing in small venues allowed her to develop her own style and exposed her to many other talented performers who mentored her along the way.
Sue's first professional band was in Tobacco Road, a band she formed with well known jazz and swing bass player Preston Coleman. Over the next 15 years, the band played regular gigs at the Belly Up Tavern in Solana Beach. Of Coleman she says, "Working with Preston was like going to college to learn my craft. He was the real thing – a man who was a fantastic performer and arranger and was kind and generous with us."
While fronting Tobacco Road, Sue met Candye Kane and soon after the two began collaborating on music. Later, Sue was invited to join Kane's band as piano player which led to world tours through the '90s playing club dates and festivals in Canada, Australia, France, Holland, the Netherlands and United States.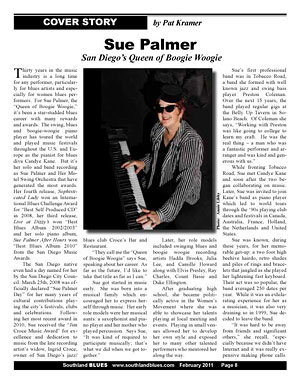 Sue was known, during these years, for her memorable get-up: a two foot high beehive hairdo, retro shades and piles of rings and bracelets that jangled as she played her lightening fast keyboard. Their act was so popular, the band averaged 250 dates per year. While it was an exhilarating experience for her as a musician, it was also very draining so in 1999, Sue decided to leave the band.
"It was hard to be away from friends and significant others," she recalled, "especially because we didn't have Internet and it was really expensive making phone calls. Eventually, I quit because I was just tired of being on the road so much."
Back in San Diego Sue launched her own band in 2000, "Sue Palmer and Her Motel Swing Orchestra" and over the past decade has performed regularly at Croce's in San Diego as well as the Sacramento Jazz Jubilee, the Glendale Kiwanis Jazz Festival, the Mammoth Jazz Festival, the Ocean Beach Jazz Festival and the Adams Avenue Street Fair to rave reviews.
In addition, she has collaborated with a number of recording artists. She's featured on Tom Waits' compilation, New Coat of Paint (Manifesto Records, 2000), Earl Thomas' The Elector Studio Sessions (2000), Michele Lundeen's self produced, Song Inside Me (2004), produced and contributed to Dayna Carroll's CD Yesterday, Today, Forever (2008), and produced the late, award-winning songwriter Janell Rock's CD, Janell Rock, Performer. She's also appeared on stage or recorded with Lou Ann Barton, Sue Foley, Kim Wilson, Walter Wolfman Washington and Marcia Ball, to name a few.
In addition to writing new music for her five, independent releases, Sue has continued to write and perform with Candye Kane. Her latest role is as musical director for Kane's new biographical music show, Toughest Girl Alive, for which she wrote "Highway of Tears," one of the featured songs. Based on Kane's life's experiences, the show features music, multimedia and gorgeous set design highlighting Kane's colorful memoirs. The show opened in January and runs until February 6, 2011 at the Moxie Theater in San Diego.
Sue has also performed as part of the show "Queens of Boogie Woogie" with piano players/singers Lisa Otey, Dona Oxford and Wendy Dewitt at Berkeley, CA's Freight & Salvage and the 2010 Ocean Beach Jazz Festival. But the most special show was in 2002 with the late, original Queen of Boogie Woogie, singer-songwriter-pianist Hadda Brooks who died later that year. Sue will again join the Queens of Boogie Woogie for a show at Yoshi's in Oakland on April 25, 2011.
For the present, Sue enjoys her role as band leader with Sue Palmer and Her Motel Swing Orchestra. The band's lineup includes lead singer Deejha Marie, trombone player April West, drummer Sharon Shufelt, guitarist Steve Wilcox, sax player Jonny Viau and bass player Pete Harrison, with Sue on piano and accordion.
--SouthlandBlues.com, February 2011, by Pat Kramer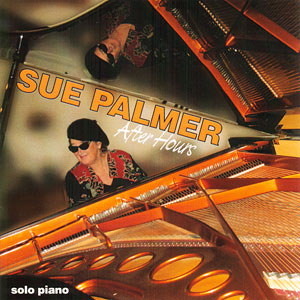 SUE PALMER, "After Hours"
With nearly four decades of professional experience behind her, San Diego-based pianist Sue Palmer has always been the consummate ensemble player who held down a featured role for a decade in the band of blues diva Candye Kane and led her own band, Sue Palmer&Her Motel Swing Orchestra. But Lately, Palmer has been feeling the effects of a stop-and-go economy and, after years of keeping a seven-piece band working several nights a week, she's resorted to some solo work to keep her calendar filled.
Music aficionado/arts patron/sound engineer Hiro Ikezi invited Palmer into his sprawling estate in the exclusive Rancho Santa Fe neighborhood of San Diego and put her to work on his Bosendorfer grand piano. So here is the unmasked Palmer, sitting alone at the piano with no one to share the spotlight with.
The results are at once intoxicating and illuminating. Palmer digs deep into her repertoire for songs that not only fit her style, but also expand it a bit, pulling songs from as far back as the 1920s to complement her own five originals here.
Palmer struts on Avery Parrish's "After Hours," Edith Piaf's La Vie En Rose," Lovie Austin's "Frog Tongue Stomp," Fats Waller's "Honeysuckle Rose Boogie," the Gershwin Brother's "Nice Work If You Can Get It," and Sidney Bechet's "I'm Speaking My Mind." Clearly, these performances show off a broader range that we haven't often given the boogie woogie maven credit for.
Yet, by mixing those songs along with her own compositions such as "Boogie Noir," "Room Service Boogie," and "Domino Boogie," Palmer easily keeps the interest of listeners through all 13 instrumentals.
Perhaps the most interesting song here is the combination of Joe Sullivan's runaway train epic "Little Rock Getaway" with Palmer's "Ferraday Breakdown," turning a rollicking piano number into a tribute to the original piano pumper, Jerry Lee Lewis. You know wherever they are, jazz, blues, and rock piano players are smiling at the full-throttle sounds coming from Palmer's keyboards
--Blues Revue, September 2010, by Michael Kinsman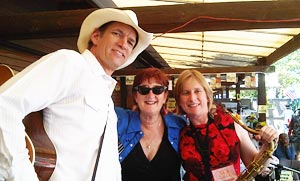 Johnny d'Artenay and Anita Thomas with Sue in Sacramento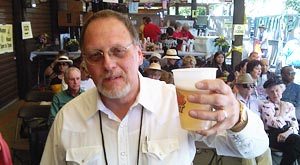 band leader/drummer Hal Smith
Sue (Palmer with Hal Smith's Hayriders,) called the "Queen of Boogie Woogie," is the only female in the lineup (Sacramento Jazz Festival/Pianorama). A high energy performer, she easily matches the men in skill, experience, and knowledge as well as in versatility and personality. This multitalented pianist/accordianist/bandleader/producer can blaze away not just on boogie but also, on blues, jazz, swing, country, and just about any genre you can name. She's performed in the US, Canada, Europe, Scandinavia, and Australia.
Sue plays with such style, energy, and fun that she seems to put the room in motion. You sure can't miss the beat when she plays Freddie Slack's Down the Road Apiece or her version of Fats Waller's Honeysuckle Rose. Next up is her original Sashimi Mimi, a takeoff on Fujiyama Mama. She's wearing a couple pounds of big cocktail rings on each hand, and their reflections sparkle against the piano's fallboard.
Her most elegant number is Avery Parrish's After Hours, delivered with such ease that many onlookers don't realize how difficult it is to play. She wraps up her 20 minutes with a medley of Little Rock Getaway by Joe Sullivan and her own Ferraday Breakdown. Sue hasn't stopped smiling the whole time! .....by
--The American Rag, July 2010, by Dr. Rosemary Hallum
***JERRIE THILL: April 16, 1917-May 13, 2010***
It is with great sadness that I report the death of my friend Jerrie. She was an inspiration to me and my family. I will always thank sax player Carol Chaikin for figuring out that Jerrie and I were connected. It was a pleasure to know her. Sue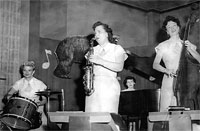 Gal Band
Sue Palmer Takes a Look at Musical and Family History
"St. Louis Woman.....with all her diamond rings......" Some of my earliest memories are of hearing strains of W.C. Handy's "St. Louis Blues" being played by my mother's very musical family: my Aunt Arlene blowing alto sax, Auntie Sallie's smoky voice, and Aunt Toot playing the sexy blues on piano. I was lucky enough to have cool musical role models to grow up with. Unfortunately, they all died over 20 years ago and the memories ended. Or so I thought.

Last year, being a band leader myself now,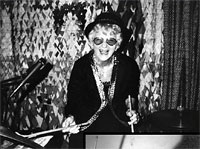 Jerrie now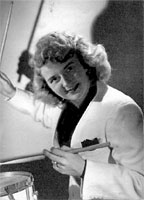 Jerrie 1945
I added a very gifted sax player from L.A., Carol Chaiken, to one of my shows at Dizzy's. To make a long story short, she introduced me to a wonderful woman who had toured for years with my aunts. She's 90 years old and still playing drums and singing at the famed El Cid Restaurant in the Silverlake area of L.A., where she has been a fixture for years. She has a wonderful memory and filled in lots of the blanks about my aunts' lives. Her name is Jerrie Thill.

Born in Dubuque Iowa in 1917, Jerrie Thill began making her living as a performing artist, singing, dancing, and playing her drums in the Chicago area, at the age of 18. She was the leader of an all-girl swing band that toured on the Pantages and Gus Sun Times Circuits during the tail end of the vaudeville era throughout the mid to late 1930's. West coast tours with the Ada Leonard All-Girl Orchestra and the Biltmore Girls during the 50's places her among the ranks of women instrumentalists who have contributed to jazz and blues for more than half a century. Twenty years with Peggy Gilbert's Dixie Bells, women musicians in their 60's to 80's, included guest appearances on a number of television shows including The Tonight Show with Johnny Carson, Golden Girls, Married with Children, and Trapper John.

My aunt, Arlene Turner, also played with Ada Leonard. Both my aunt and her girlfriend, Sallie Davis, were integral members of the Biltmore Girls. While my aunts retired from the music business in the '60's, Jerrie has continued until the present. Auntie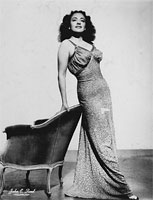 Sallie
Arlene offered Jerrie her first job in Hollywood at Mickey Cohen's Continental Club. She says if they wanted to work elsewhere, they had to ask his permission first!!! That was the beginning of the Biltmore Girls and several years of touring work. She has fun stories that fill in lots of gaps that my family never told me, and probably didn't know either. It is an interesting cultural phenomena of life on the road, as a musician, as a woman, and as gay women. Jerrie's experiences weren't so different from mine, 50 years later. They were hipsters of the '40's and '50's, playing music, partying, and having a creative and rewarding life.

Check out Jerrie's website: www.jerriethill.com and find out where she's playing next. Maybe you'll hear "St. Louis Woman, with all her store-bought hair.........."

~ Sue Palmer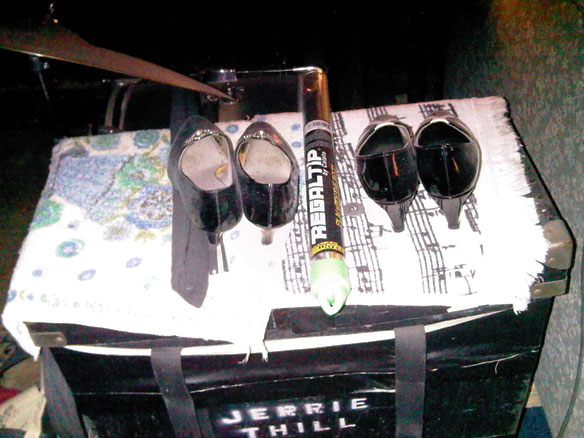 http://www.signonsandiego.com/news/2010/jun/14/event-celebrates-life-after-cancer/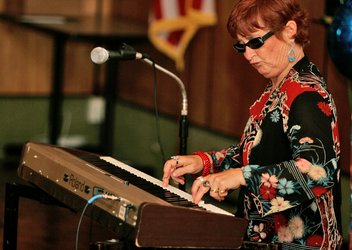 DAVID BROOKS / UNION-TRIBUNE
LA JOLLA — In a way, the cancer survivors celebration Sunday at Scripps Green Hospital in La Jolla served as an unofficial graduation ceremony for Mary Ann MacMillan.
MacMillan, a former real estate agent from Cardiff, is wrapping up a year of surgery, radiation and chemotherapy to treat tongue cancer.
Now she has started thinking more about life after her disease.
"I believe your life doesn't end because of cancer," said MacMillan, 67.
That sentiment was shared by many of the 200 people who attended the midday event that marked the 23rd annual national Cancer Survivors Day.
Among the cancer survivors was San Diego boogie-woogie and blues pianist Sue Palmer, who was treated for breast cancer eight years ago. Palmer talked about her journey during a 20-minute musical performance.
"I used to think that I just wanted to make money and play," Palmer said. "Now, I really appreciate the musical moment."
Battling cancer can be one of the most challenging experiences of any person's life, but the difficulties don't necessarily end when the disease disappears.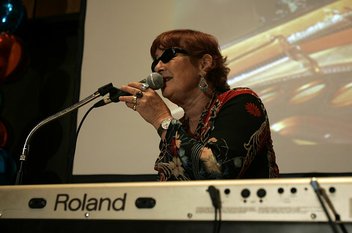 PHOTO BY DAVID BROOKS
Many former cancer patients deal with depression and other psychological issues that resemble post-traumatic stress disorder. The toxic treatments they undergo while being ill can lead to a wide range of physical problems later in life, such as damaged nerves, a diminished sex life, heart problems and a risk of developing other cancers.
The event put on by Scripps Green could get more crowded in the coming years.
More people are likely to get cancer in the future as the population ages and advances in the treatment of heart disease extends life spans, said Dr. Michael Kosty, medical director of the cancer center at Scripps Green.
Cancer surpassed heart disease in 2009 to become the No. 1 killer in San Diego County, and the same switch is likely on the national and international level.
The American Cancer Society estimates that about 11,750 people will be diagnosed with cancer this year in the county and as many as two-thirds of them will survive their illnesses, based on the latest cancer mortality rates.
Nationally, more than 11 million people have survived cancer, representing nearly 4 percent of the U.S. population.
Many cancer patients display an uncanny ability to deal with their difficulties and nurture the most important things in their lives, Scripps Clinic oncologist Dr. Darren Sigal told the crowd that gathered for the local event.
"Every day I am focused on valuing life, people and relationships," Sigal said. "These are the things that people outside this sphere easily lose sight of."
Cathy Garvey, a Scripps dietitian, said cancer survivors can increase their post-illness years by adopting a healthy diet that can help minimize inflammation, which has been tied to a higher risk of developing certain cancers and other diseases.
"As survivors, sometimes we overlook those day-to-day opportunities to keep healthy," Garvey said.
When preparing a plate of food, make sure two-thirds consist of vegetables, fruit, whole grains and beans, she said.
Eat less red meat, avoid processed meats altogether, cut down on sugary drinks, toss out foods containing trans fats, snack on nuts and exercise at least 30 minutes a day, Garvey said.
"Is this food going to help my body or is it going to promote disease?" she told attendees to ask themselves.
Palmer told the gathering that playing piano offered solace during and after her cancer surgery and treatments.
The illness helped her focus on the things that meant the most to her.
Palmer worked with her doctors to relieve numbness in her fingers that was caused by some of the treatments, and several local music club owners such as Ingrid Croce scheduled her gigs around chemotherapy sessions.
"It's nice to have a passion to go back to when you don't know what is going to happen," Palmer said.
MacMillan, the tongue cancer patient who attended the celebration with her daughter, called Palmer's message inspiring.
"The more we can hear that, the more we can make our spirit uplifted," she said.
--San Diego Union Tribune, June 2010, by Keith Darcé
"Killer Tiki Boogie," from in the Green Room

written by Sue in 2002 when she was undergoing chemo and President Bush was contemplating going to war with Iraq.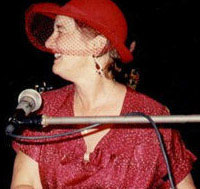 (2) SAN DIEGANS INVITED TO CELEBRATE CANCER SURVIVOR'S DAY
"Sue Palmer, a cancer survivor, says her job is to have fun."
--Sue Palmer-Queen of boogie woogie to perform, The Presidio Sentinel, June, 2010
SUE PALMER, "After Hours"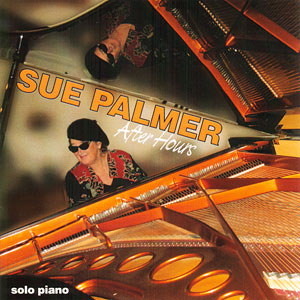 Good boogie woogie piano is a force to be reckoned with, and San Diego's Sue Plamer has played it in her own Motel Swing Orchestra, with numerous other top blues artists including Lou Ann Barton, Kim Wilson, Dave Alvin, and Earl Thomas, and as a member of local singer Candye Kane's band for years. She has released six previous albums with her own band of blues and boogie music, which feature her energetic playing in a group setting. "After Hours," her new album offers a different approach: it is solo piano, and Palmer plays much of it straight up, boogie woogie style. She recorded this music on 2 evenings in late 2009 in the living room of local recording engineer Hiro Ikezi. The home recording is okay throughout; there is noise, but also a kind of "live one take" vibe that actually helps the project work.
Things start off with the title tune, a standard that Palmer slows down a bit as she relishes each verse's opportunities to make forays up and down the scales. "Down the Road Apiece" bumps up the beat to full boogie level, as Palmer's left hand becomes a rapid heartbeat of bass lines and she displays an ease with one lyrical phrase after another with the right hand. On "Boogie Noir" some of the deep bass notes on the grand piano swallow one another up. "Speakin' My Mind" is more of a straight blues piece than much of the material here, as the minor chords and melodies strike a departure from songs like "Room Service Boogie." "Frog Tongue Stomp" is a 1920's tune with a ragtime feel, played with flair. A definite standout is "Honeysuckle Rose Boogie," witih Palmer propelling the familiar jazz classic with the full boogie treatment and sounding like two pianos instead of one.
Palmer has a very complete blues keyboard vocabulary, and one of the big pluses of a solo piano disc is the opportunity to hear plenty of the classic riffs; she has them all down pat and in some ways this is a great boogie piano primer for fans of the style. One of the limitations of the approach is the lack of any other musical focus on a disc where much of the music is similar. While this puts a lot of pressure on Palmer's creative ability, she does a good job of capturing the individual songs and keeps things interesting.
"Lil Rock Getaway/Ferraday Breakdown" is another great track, an example of Palmer filling the room with sound, briskly following a jazzy melody into a full-throttle bass-key thumper. This is one of those tunes that will have the listener looking at every keyboard around for days, thinking about how cool it would be to be able to play like that. On "After Hours," Sue Palmer gives listeners a chance to hear the piano all by itself, no holds barred, playing various styles of music that date back more than a century and that will always be with us. Blues keyboard fans will love it, and so will anyone who likes intrumental music with a beat.
--The San Diego Troubadour, May 2010, by Frank Kocher
SUE PALMER, "After Hours"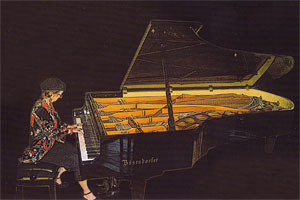 A San Diego's queen of boogie-woogie, Sue Palmer sits down at the grand piano for this sessions and struts her veteran sense of what it takes to make creative music. Through vivid imagery, she paints 'em slow, fast, and in-between with a clear theme running around each selection. Her left hand rumbles the keyboard as her right hand dances an appropriate melody; together, they fashion rhythmic pieces taken in stride and running as smooth as a dancer on ice.
Among her many accomplishments, Palmer served as pianist for San Diego's production of Ain't Misbehavin', a show in which boogie-woogie reigned supreme. Currently, she's featured along with Northern California's Wnedy Dewitt, Tucson's Lisa Otey and Los Angeles Dona Oxford as the Four Queens of Boogie Woogie Piano, in which eight hands ramble over one keyboard for a unique ride.
With this, her solo piano album, Palmer takes "After Hours" nice and slow, "Honeysuckle Rose Boogie" uptempo, and "Down the Road piece" at a loping pace. Then she takes "Lil Rock Getaway" and Ferraday Breakdown" at breakneck speed. She gives "Boogie Noir" an eerie effect where the slow cabaret pace creates dark scenes as if from an old movie. Palmer's title track rates as the best of the album and each of the other dozen boogie thrills add plenty of variety to this excting solo piano session."
--SOUTHLAND BLUES, March 2010, by Jim Santella
SUE PALMER, "After Hours"

"We always enjoy hearing Sue, and this time it's a solo piano CD, with 13 tracks recorded in Hiro Ikezi's living room on the Bosendorfer grand....it's a beautiful sounding piano, and Sue's one of our favorite players. The tune list includes Sue's take on some familiar themes like "Down the Road APiece," "Honeysucklerose Boogie," "Rockhouse," "La Vie en Rose" and others. And though there are no notes to the effect, I suspect Sue's originality is shining through all of it, with some songs being hers alone."
--Blue Suede News, Spring, 2010, by Marc Bristol
"The Queen of Boogie Woogie lives! Recognized from Paris, France, to Paris, Texas, Sue Palmer, piano player extraordinaire has recently released a new live CD,"On Air: Sue Palmer&Her Motel Swing Orchestra." Recorded live in her hometown of San Diego by KSDS Jazz 88.3, Ms. Palmer, a frequent visitor to Long Beach and the surrounding blues clubs, snaps, crackles, and pops with Her Motel Swing Orchestra.
Sue Palmer and cohorts lead the listener through American pop music history. Combining instrumental arrangements and vocalized renditions of "Take the A Train" and "Mustang Sally," the band jubilantly weaves iconic signatures that salute the Big Band Era of the 40s.
Many will recognize Palmer from her dedicated stint with another Diva of the boogie and blues community, Candye Kane and the Swingin' Armidillos. Together these invigorating rockers have toured the world. She has fronted several other coastal bands, including Tobacco Road, based in San Diego and has appeared with luminaries, Dave Alvin, KIm Wilson, and San Diego legends, The Paladins.
Perfect for uplifting holiday spirits, Palmer's extended catalog can be purchased through www.suepalmer.com Get converted to the classic era of big band sounds and spread the gospel of boogie"
--The Beachcomber, News and Views of Greater Long Beach, November 20, 2009, Dirk Gorre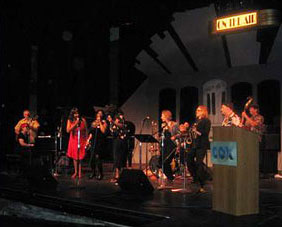 "On Air, a recording of a recent KSDS "Jazz Live" performance broadcast of Sue Palmer and Her Motel Swing Orchestra gives us everything that we've grown to expect throught the years-some snapping fingers, tapping toes, and maybe a smile or two.
Palmer's forte is barrelhouse boogiewoogie, and for such music you won't find a better piano player in town. Throughout this disk, boogie or other strong rhythms make up the musical backbone, fromm the rocking "Mustang Sally" and "Big Boss Man" to the up tempo "Sue's Boogie." Even Duke Ellington's "C Jam Blues," usually given a jazz treatment, is put through the boogie-woogie processor.
While Palmer's background is the barrelhouse, the other musicians of the MSO have obviously been steeped in other genres, such as swing, blues, and jazz. There may even be a few reformed rock-n-rollers among the ensemble. You might expect a cacophony from this musical amalgamation, but the effect is addictive in a good way. During the performance the soloists have a playful tug-o'-war with the rhythm section to see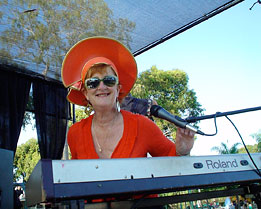 which direction the music will take. A little blues, jazz, and maybe a little be bop from April West, Jonny Viau, and Carol Chaikin, who play the trombone and saxophones. And guitarist Steve Wilcox channels some ancient Chicago bluesman on his solos. It would be interesting to find about the time machine he has too. The one he uses go back to 1951 to buy those amplifiers that give him the best guitar sound possible.
While we're concentrating on the MSO personnel we should mention that bassist Pete Harrison and Sharon Shufelt hold the rhythm section together. Shufelt plays with verve and spunk. There is not a livelier drummer in San Diego. Her sense of time is so good you can set your watch by her. Continuing her long association with Palmer, Deejha Marie sings on a few of the tunes, including a fairly up tempo rendering of "East of the Sun." KSDS radio personality Cynthia Hammond joins in on a couple of the vocals as well. With about as much moxie as anyone should be allowed to have, Lady Dottie steals the show on "Mustang Sally" and "Big Boss Man," singing with the rough edge that those tunes call out for.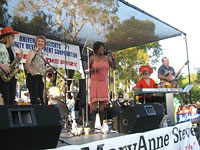 Palmer's playing and compositions are always clever and fun, and none more so than "Swango." As the musicians make their way through a section of said tango, the anticipation that they have to take the tune into the swing section builds and builds. You can hear how much fun they're having with it. The ninth greatest composition in the history of Western Civilization is is Billy Strayhorn's "Take The A Train." No other tune mixes pluck and elegance like this one, and the MSO performs it to a fare-thee-well."
--Troubador, November 2009, San Diego, by Paul Hormick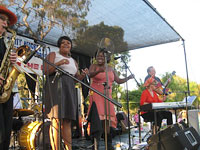 "Sue was (blues belter) Candye (Kane's) piano player for several of her earlier tours and cds. She's back now with a CD recorded live on KSDS 88.3 San Diego in May of this year. While there are 2 or 3 songs that have appeared on Sue's earlier titles (including "Swango," which was the title tune from one of Candye's CDS,) this is mostly a different program, with several familiar tunes like "Take the A Train," "Gotchu On My Mind," "Big Bossman," "Mustang Sally," and "Just a Fool." KSDS is a Jazz station, and this is a terrific band. The subtitle of the CD is "Celebrating 20 Years of Instrumental Women with DJ Janine Harty." Indeed the core of the band are all female players, though the guitarist, bass player, and sax man are male. The special guests, Carol Chaikin (sax), Cynthia Hammond(lead vocals), and Lady Dottie (lead vocals) are all female. It might be too much to hope for to find all female players good enough for a band like this and on the other I always think it makes fantastic chemistry to have both women and men playing hot music together this well! It was a great show, and now you can be there even if you weren't there!"
--Blue Suede News, Fall 2009, Marc Bristol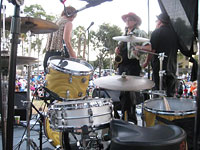 "Opening with (3) instrumentals might be a chancy move, but pianist Sue Palmer&Her Motel Swing Orchestra maintain interest and momentum, using horns and Steve Wilcox's reverb-drenched guitar to full potential on the slow blues "Soundtrack to a B Movie" and a rousing "Springroll." April West (trombone) steps out on "Swango." Deejha Marie sings "Mustang Sally" in an arrangement sufficiently off the beaten path to merit inclusion on Palmer's self-released "On Air." Interpretations of Ike&Tina Turner's "A Fool In Love"(here called "Just a Fool") and the exotic "Clipjoint" are excellent."
--Blues Revue, Dec/Jan 2010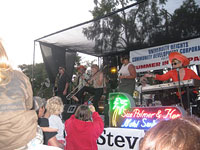 "Sue Palmer and Her Motel Swing Orchestra, numbering seven dedicated souls, added guest saxophonist Carol Chaikin and vocalists Cynthi Hammond and Lady Dottie for this radio show. Recorded in May for station KSDS in San Diegoj, the session was performed before a live audience, making things swing with plenty of enthusiasm. Palmer spreads her program across the musical spectrum, including Duke Ellington favorites as well as traditional blues, boogie, and rock and roll.
Her piano delivers "Sue's Boogie" with a rumble built for swing. Drummer Sharon Shufelt converses with the band on "Springroll" as if taking a stroll in the park, while guitarist Steve Wilcox lends his might axe to most selections with a comfortable ease. Jonny Viau's tenor sax and April West's trombone make a solid horn section and interplay with alto saxophonist Carol Chaikin in a round that recalls the spirit of television's Saturday Night Live band. To complete the formula that Palmer has designed, Pete Harrison walks the upright bass for a constant reminder that her purpose remains firmly rooted in swing."
--Southland Blues, August 2009, Jim Santella
Photo/Video of KSDS Jazz 88 Show and Recording of "On Air"
cover art by Julie Warren, slide show photos by Julia Webb
Photos / Video from Janell's Benefit Show (2/22/09)
SAN DIEGO CELEBRATES SUE PALMER DAY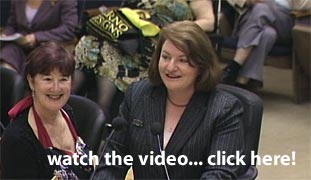 Tuesday, March 25 was declared Sue Palmer Day in San Diego. Sue, with proclamation, and Councilmember Toni Atkins, celebrate the day. BLUSD nominated Sue's "Sophisticated Ladies" CD into the Blues Foundation's worldwide competition where it earned the title of Best Self-Produced CD of 2007.
SUE PALMER ROCKS BLUES WORLD WITH BEST CD AWARD!!!

Sue Palmer, whose piano has graced the San Diego music scene for more than 2 decades, is getting some long overdue recognition. Sue's "Sophisticated Ladies" CD was chosen by BLUSD as the best self-produced CD in San Diego last year and nominated into the Blues foundation's worldwide competition. In front of 2500 people at the Orpheum Theatre in Memphis, Sue won the best self-produced CD at the International Blues Challenge on Feb 2nd. Sue celebrated at the event with long-time band member Sharon Shufelt, friends, and BLUSD board members. To honor Sue, San Diego Councilmemeber Toni Atkins has proclaimed March 25th as "Sue Palmer Day in San Diego" and will present her proclamation to Sue at the City Council meeting that day. Sue is not a newcomer to the blues. She spent 12 years leading the swing group Tobacco Road, and another five years traveling the world as part of the band of North County diva Candye Kane. It seems that Sue's CDS or bands get nominated or win at the San Diego Music Awards nearly every year. This is a working musician with a vision and a commitment to stick to it. No one plays the piano like Sue Palmer, and she's earned wide-ranging respect in the local music community."
--Blue Ink, March 2008, San Diego
Watch a clip from the CD Release for "Sophisticated Ladies"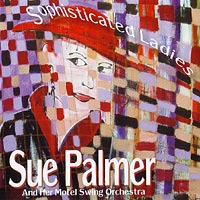 Sue Palmer and Her Motel Swing Orchestra "Sophisticated Ladies"

Blues Lovers United of San Diego (BLUSD) congratulates Sue Palmer and Her Motel Swing Orchestra after their new CD, "Sophisticated Ladies", was selected by BLUSD to be considered for the Best Self-Produced CD award. The award is given each year by the Blues Foundation in Memphis TN. "Sophisticated Ladies" was chosen by BLUSD's selection committee from among several CDs entered by San Diego area blues artists.
BLUSD is the San Diego affiliate of The Blues Foundation. Affiliates around the world are permitted to send one CD to the Foundation for consideration. CDs are evaluated on Musical Performance, Audio Quality of the Presentation, Cover Art and Design, and Credits and Liner Information. The award has been given each year since 2005 by the Blues Foundation. The winners will be announced during the festivities of The International Blues Challenge (IBC), which will take place January 30 – February 1, 2008 in Memphis.
--Ken Boozer, Vice President
From Blue Ink, BLUSD Newsletter, November 2007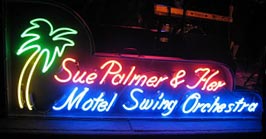 "It's hard to imagine a blues scene without Sue Palmer. San Diego is most fortunate to have such a talented and committed blues player; someone who appreciates and respects tradition and finds a way of delivering the past to today's doorstep. On 'Sophisticated Ladies,' Sue reaches deep into her arsenal to make certain we understand that the swagger of Hadda Brooks wasn't for nothing and that blues doesn't have to rock to work, that it can swing away, and be just fine. In New York, Paris or Istanbul, Sue Palmer would be celebrated as a cultural icon. Sadly, even after she turns out an album as delightfully seductive as this, she won't get her proper due in her hometown. She won't be discouraged, though. Sue's piano playing and arranging skills are first class. She's got Deejha Marie to sing and April West and Jonny Viau to drive their horns through the heart of the music. San Diego's Queen of Boogie Woogie is way more than just another working musician. She's a bright light ready to take chances and retrofit the past into a vibrant, classy version of what blues should be. 'Sophisticated Ladies' is proof of that.
--Michael Kinsman, President of the San Diego Blues Society, "Blue Ink," June 2007
| | |
| --- | --- |
| | |
"Sue Palmer, the self-styled "Queen of Boogie Woogie" and her Motel Swing Orchestra is on the loose again with a new cd that's the best she's recorded since forming the jazz band seven years ago. The San Diego pianist's seven-piece group has been labeled a blues band, but when you listen, it becomes apparent that putting the band in a blues box is a disservice to the orchestra. It swings hard, bites into odd harmonics with a vengeance and is far more disciplined than the typical blues band. You need only to sample the first track, "I'll Cry Over You," featuring songstress Deejha Marie, to discover a swing gem, whereas "Queen of the Boogie" finds the leader keeping the Freddie Slack tradition alive. And the venerable ballad, "As Time Goes By" is given a dramatic reading by guest vocalist Dayna Carroll with Palmer as her sole accompanist. The fact that Palmer varies the combination of instruments to suit the mood is one of the elements that makes the disc appealing. Palmer has dedicated the album to women who have played important roles in her personal or professional life, or both. "I Feel So Good" is done in memeory of Hadda Brooks, the original "Queen of the Boogie," while the previously mentioned song "Queen of the Boogie," is a role reversal song that Janell Rock wrote with Palmer in mind. Amid the very good performances are several that stand out: One is "Sophisticated Ladies," which showcases the talents of oboist Scott Paulson and trombonist April West; another is the flute and tenor sax work of Jonny Viau on "Interlude," a Palmer original that's as modern as a 2010 Mercedes; and "Ladies Shoes," a blues tune that Viau and Marie turn into a musical sex symbol."
--Cam Miller, North County times, July, 2007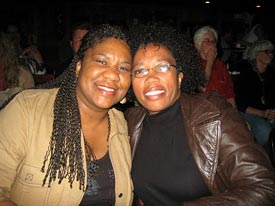 "Sue Palmer's newest CD 'Sophisticated Ladies," shines the light on the talents of the women who make music with her. Indeed, the disk's selection ranges from swing standards and slow, sultry blues to barrel house and full-tilt boogie woogie. Throughout, Palmer's playing remains right on the mark, with the right touch for each style. Deejha Marie, who has worked with Palmer for years, sings with elan; Sharon Shufelt drums with snap and pizazz; Daniel Jackson, San Diego's Dean of Cool, (plays) with some hot supreme saxophone. Palmer and her Motel Swing Orchestra cover "Sophisticated Lady," with their efforts taking this Duke Ellington standard to a new level. Scott Paulson plays the lead on oboe, and the instrument brings out the bits of Ravel, Debussy, and other 20th century composers who influenced Ellington. The result is something wonderful, which I've never heard in any other version of this classic. April West pulls the composition back to its roots with her full round trombone. Palmer usually saves the best for the last, wrapping up her recordings with a real gem, and she does the same here. She and Dayna Carroll team up for "As Time Goes By." I feel confident when I tell you that this is the best recording of "As Time Goes By" that there has ever been."
--Paul Hormick, The Troubador, San Diego, June 2007
| | |
| --- | --- |
| | |
"Palmer's piano is excellent..... A collection of great players, including Jonny Viau on sax and Steve Wilcox on guitar, brings to life a lovely reading of the Ellington title song, Rodgers&Hart's "This Can't Be Love," Hadda Brooks' version of Big Bill Broonzy's "I Feel So Good," a terrific pair of songs from Camille Howard, and two memorable originals--Janell Rock's "Queen of the Boogie" and Palmer's smoky "Ladies Shoes."
--Blues Revue, Oct/Nov 2007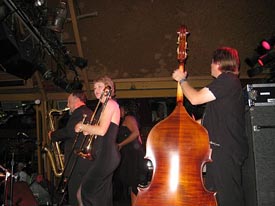 "As Queen of the Boogie Woogie Piano, Sue Palmer knows how to make things happen. With her latest album, she brings her Motel Swing orchestra in for a romp through the blues that could very well make the house rock all night long"
--Jim Santella, Southland Blues Magazine, Southern California, June 2007
"Once known for her mile-high beehive hairdo and wild accordian solos as a member of blues singer Candye Kane's band, pianist Sue Palmer struck out on her own in 2000, reinventing herself as San Diego's queen of boogie-woogie. A loyal following of swing dancers have taken to Palmer's trademark 'wall climbing jump boogie"--a combination of boogie-woogie and swing with a slightly punk rock ethos, as she describes it. "It makes you a slave to the dance floor," Palmer said with a laugh. The swing aficionados at her shows seem happy cutting it up, whether on a wooden floor or a field of grass."
--Pat Sherman, Today's Local News - Sounds of summer, June 2007
"While Sue's mother grew up in the Texas panhandle, Sue grew up in San Diego and started playing music with her relatives, who would all get together and jam at family functions. In the '80's, Sue performed with then-local-now-famous comedians Kathy Najimy, Mo Gaffney, and Whoopie Goldberg in the feminist groups "Hot Flashes" and "Ms.B.Haven." She's toured the world, written soundtracks, and created and performed her own multimedia one-woman show. But we know and love her as band leader and piano player for one of our most popular TGIF groups. Wigglin' boogie-woogie, Ellington sophistication, old-time Americana, vintage blues, a little Hawaiian spice-Sue Palmerand Her Motel Swing Orchestra deliver it all. While the musicianship is impeccable, it's the warm, expansive, join-in-don't-be-shy sense of fun that we always remember.
--Carlsbad Jazz in the Park Program, June 2007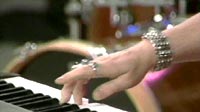 "Pianist Sue Palmer might be best known for her former role as a member of Candye Kane's band. On "In The Green Room," she offers an hour's worth of boogie-woogie, vintage blues, jazz, old-timey Americana, Hawaiian music, and even a funky novelty song.
That might sound like a jarring mix, but it's enjoyable all the way through, even with a blend of studio recordings, live cuts (with her band, the Motel Swing Orchestra), and a low-fi family performance. Palmer leaves the vocals to others, so it's not surprising that she kicks off the set with a pair of instrumentals, her own "Jakob's Boogie Woogie Lullaby," and Cy Coben's "The Old Piano Roll Blues." She introduces her band for a bluesy reading of Duke Ellington's "Mood Indigo" featuring singer Deejha Marie that should go over well with the cocktail crowd.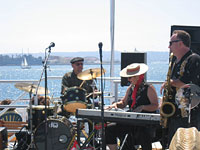 Things really get cooking when Palmer recruits Kane's brassy vocals for "Gertrude&Steins," a salute to bawdy women who love women, with a piano hook you won't be able to get out of your head. Kane also sings a cover of "I'm Confessin'" and contributes background vocals to Killer Tiki Boogie," Palmer's wacky album-closer. Tucked into the middle of the album is a recording of Palmer and her extended family performing the instrumental "Cottonwood." It's as amateurish as it sounds, with Palmer's piano cutting through the joyful noise. (A home movie of the performance is featured on an enhanced video track.)
A sense of joy permeates the entire disc. Palmer has surrounded herself with great musicians who love what they do, and it's infectious."
--BLUES REVUE, Aug/Sept 2005, by Michael Cote
"Palmer, San Diego's queen of boogie-woogie, has come into her own on this wonderful new release, with studio and live tracks redefining her rep as "just" a gifted pianist-bandleader. Palmer may now add producer and visionary to her resume. She, her Motel Swing Orchestra and many notable guests combine to create an expansive, eclectic album that touches on everything from Ellingtonia amd trad piano boogie to the sort of giddy-but-musical tomfoolery that Frank Zappa once defined.
Highlights include the amusing, Sappho-centric cabaret "Gertrude&Steins"(penned by local singer-songwriter Janell Rock), Palmer's own sleazy instrumental stroll "Boogie Noir" and the droll, new-wavish "Killer Tiki Boogie" - not to mention an unlikely, uke-and-steel-steeped cover of "Aloha Oe" (really!)/ The roster of San Diego heavies on hand include April West, Candye Kane, David Mosby and Adrian Demain"
--"Blue Notes"/Buddy Blue/San Diego Union-Tribune, June 2, 2005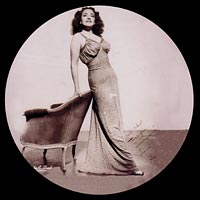 **Dot&Roy Palmer make National News!!!** "This one is Sue's tribute to the green room where her family got together to play and sing as she was growing up. SHe was blessed with talented relatives and a family that believed everyone should participate in the family music.....Her mom Dot plays banjo uke on "Cottonwood," and her dad is the announcer...The booklet is peppered wiith nice vintage photos which add to the ambiance intended. You'll love the one of Sue's Aunt Arlene (a professional alto sax player)'s girlfriend Sally Davis under the CD! "Cottonwood" was also videotaped (live in the green room at Sue's house of course!) and is presented in the enhanced portion of the cd...."
--Marc Bristol, Blue Suede News, Seattle, Summer 2005
"CD IS BOMB: DEAR SUE, YOUR NEW CD IS YOUR BEST YET. WE WERE AT BUDDY BLUEBALLS A FEW MO. AGO. HE'D JUST GOT A COPY IN THE MAIL. WE MADE HIM LISTEN TO IT AT GUNPOINT (HIS FAVORITE SEXUAL POSTION). THE OLD BASTID WAS IMPRESSED(SO FUKINWHAT). SO MUCH FOR THE LAZY LEFT HAND. APRIL IS MY FAVORITE S.D. MUSICIAN. HER BONE PLAYIN BRINGS A TEAR TO MY BLOODSHOT EYE"
--MR.FLEENER, May 26, 2005
"cowabunga dewd! GREAT job! Not only do I love that wild, eclectic, adventurous spirit of playing music you love and shitcanning musically confining concepts like "cohesion," or adhering to people's expectations, but it takes massive chutzpah to pull it off. Yer playing is fantastic, your songs are wonderful and your taste in co-conspirators impeccable."
--With admiration, Buddy, May 22, 2005

"If pressed, Sue Palmer could hold her own with some of music's greatest when dropping the names of green rooms in which she's bided her time. From posh Parisian dressing rooms stocked with caviar and champagene to lackluster lounges in Duluth, Minn., it is from these backstage areas she has emerged to whip crowds into submission with her sultry piano stylings. As a longtime musical colllaborator of blues diva Candye Kane, Palmer has traveled throughout Europe and the world with her beehive harido, outrageous outfits and trademark, left-hand boogie-woogie blues. On her fourth solo recording, the San Diego Music Awards-winner finds herself back "In The Green Room," albeit in a retro, personal sort of way. Paying homage to both family tradition and her musical roots, Palmer's new CD includes an impromptu jam session recorded in her Talmadge home. A video of the living room session is included as an enhanced track on "In The Green Room." The low-fi video includes inveterate Palmer collaborators such as trombonist April West, drummer Sharon Shufelt, guitarist Steve Wilcox and vocalist Deejha Marie. Alongside them are Palmer's mother, Dot Palmer, strumming a ukelele, and longtime friend Chris Kehoe, known more for her tenure as State senator from San Diego than as the next Chrissie Hynde..... (Highlights include) "Killer Tiki Boogie," a sort of Peter Gun meets psychedelic B-movie mind-trip, a complete departure from Palmer's trademark sound. Lending his deep, bass chops to the tune is vocalist David Mosby. Candye Kane goes wild on backing vocals,while Scott Paulson uses a Theramin to infuse the piece with science-fiction flair (Paulson is known to many as curator of toy pianos at UCSD's Gisel Library). "Gertrude&Steins" is an infectiously campy homage to bawdy women, beer, creativity and good friends. Kane croons the salacious tune, which garnered (songwriter Janell) Rock a 2004 "Just Plain Folks" award in the Best Cabaret category......
--Pat Sherman, Gay&Lesbian Times, April 21, 2005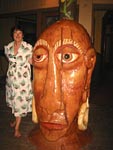 "Along with various manifestations of her own Motel Swing Orchestra, Palmer does not try to recreate the passions, adrenaline, and excess that drove these American music forms while they were in their prime. "In The Green Room" is a disk of blues and standards for family fun times. ..The mood is best summed up by the DVD disk of Palmer playing the old country classic "Cottonwood" in her living room with friends and family. What could be sweeter or simpler? And the montage of old family photos just puts the icing on the cake. Besides such classics as "Saint Louis Blues" and "Mood Indigo" are a couple new tunes. "Gertrude and Steins" is the one song on the disk with a bit of a wink and a nod. And if my life couuld have a soundtrack, I'd want it to be the last number on this disk. "Killer Tiki Boogie," a tune Palmer penned while fighting breast cancer during the buildup for war on Iraq, is clever, unworried, and about as hip as it gets."
--Paul Hormick, The Troubadour, May 2005
"The idea is to finish a song before your legs fall asleep," said Sharon Shufelt, who played a toy drumset to accompany boogie-woogie pianist Sue Palmer...., on toy piano.
--San Diego Union, August 15, 2004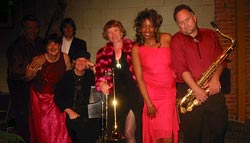 "......Game over, 6-5 Padres. We all sat there blinking in the sun, and gradually, sadly, it dawned on us that we had to leave. I stepped next door, paid a $10 cover charge and was admitted to an alcohol-free club called Dizzy's, where I sat up front for an evening of rollicking jazz from boogie-woogie pianist Sue Palmer&Her Motel Swing Orchestra. (The world needs more left-footed trombone solos like the one I heard here)"
--Christopher Reynolds, LATimes, Travel section , May 9, 2004

"Sue Palmer was leader and wonderful boogiewoogie pianist who seemed to put the room into motion. I didn't see anyone not moving to the music. April West's outstanding trombone playing left me speechless, especially when she removed her right shoe and played it with her foot for one tune! Drummer Sharon Shufelt drove the band and vocalist Deejha Marie captured the audience with her first note and didn't turn them loose until the set ended. This San Diego based band with vocalist was one of the highlights of this festival, and a must see feature."
--Harvey Barkan, LA Jazz Scene, August, 2003, re: Glendale Kiwanis Jazz Festival 2003
"If you want to enjoy a truly dynamic set of rhythm and blues, swing era jazz, and even the occasional torch ballad played with virtuoso skill and most importantly, real fervor, then nothing will beat this show. Even in a city with as many musical treasures as we have, Sue Palmer truly stands out."
--La Jolla Light, June 19, 2003, F.Chester
"While "Live at Dizzy's" is a document of a theatre piece called "Soundtrack to a B Movie," the disc also stands on its own as a fine collection of swing and boogie-woogie tunes. This San Diego collective has a bright future if they want it; the sophisticated music and musicianship on "Live at Dizzy's" outclasses many swing-revival pretenders. Palmer, especially, is an important find--a gifted piano player and top-flight band leader........
--Jeff Calvin, BLUES REVUE, Apr/May 2003
"Unless you live in San Diego County, Sue Palmer&Her Motel Swing Orchestra may just be the best band you've never heard of. This isn't Palmer's first disc, but the issue is her best. Like most musicians, Palmer and her 8-piece band feed off the presence of an appreciative audience and it shows."
--Review of "Live at Dizzy's," by Cam Miller, The American Rag, February 2003, Sacramento
"We had so much fun at Dizzy's, and really enjoyed the show. The stage looked great and your guitar player was on fire - that big Stevie Ray Vaughan sound. The Tiki song you wrote was too cool. It was great to hear the band play a more bluesy, harder sound. You guys were kickin' it up another notch at Dizzy's!"
--Mary Fleener, underground cartoonist, rock star, Tiki queen, Halloween night, Sue's CD release party, 2002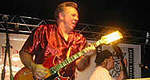 "As usual, things were hopping on Halloween in downtown San Diego. Parking was a bear but we found a lot with a single remaining spot, parked our car, and followed costumed merrymakers making their way towards the music, booming from the Gaslamp District. But we weren't going there. Turning down a side street next to the new ball park we found the dim lights of Dizzy's and walked inside. We entered a tropical scene: Tiki heads, palm thatch, hula girls and costumed dancers bouncing to the sound of Sue Palmer&Her Motel Swing Orchestra. The event marked the release of Sue's most recent CD, "Live at Dizzy's," and the crowd was clearly enjoying itself. The band was joined by musical friends and collaborators. Everyone was having a swinging good time moving through the repertoire of standards and Palmer originals including, of course,many of the tunes on the new CD. The grand finale ("Deejha's Boogie") was a driving fantastic trip that blew everyone away."
--Mike Almer, Bon Vivant, Patron of the Arts, Love Boy, Downtown Sleuth, Halloween night, 2002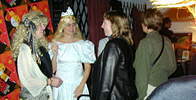 As Swing bands go, Sue Palmer and Her Motel Swing Orchestra represent the kind of undercurrent we recall from the organizations of Count Basie and Woody Herman: big bands that swing the Blues. Based in San Diego, Palmer and her orchestra sizzle with incredible chops and express with a genuine feel for the Blues".........
--Southland Blues, August 2002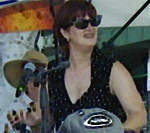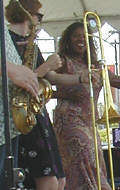 "I just want to say these are the most wonderful Boogie Woogie players I've heard in a long time."
--Hadda Brooks, on the night of the Boogie Woogie Extravaganza show at Dizzy's, July 7, 2002, with Hadda Brooks, Sue Palmer, Wendy Dewitt, and Philippe Lejeune.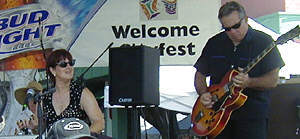 "Today, Sue Palmer&Her Motel Swing Orchestra is much more than a band capable of playing some of the best boogie-woogie in the country. It's a band that swings gracefully and fearlessly and gets downright rollicking when Sue cuts loose on the piano or guitarist Steve Wilcox (another refugee from the Candy Kane days) jumps off with his own high-energy guitar runs that whip the crowd into a frenzy.......All of this is Sue Palmer&Her Motel Swing Orchestra. There is no sense trying to pigeonhole Sue or her music. She'll play what she feels and, most likely, she will find an audience that is just as inspired by her music as she is."
--from the program for the San DIego Blues Fest 2002, Michael Kinsman, producer.
"Top place of honor for the show's first half easily goes to Sue Palmer&Her Motel Swing Orchestra. The former pianist for Candye Kane's band, is known for her amazing boogie-woogie keyboard work, as well as a winning, bouyant personality. Her performances are never less than highly recommended!"
--F.Chester, La Jolla Light, June 2002
Review of "Soundtrack to a B Movie", a theatre presentation "PALMER NOIR"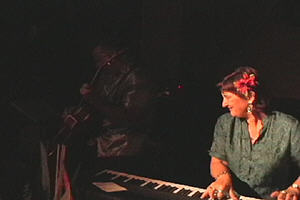 That something so complex and so unique could take place in a tiny alcohol-free, smoke-free dive known as Dizzy's should, I suppose, come as no surprise. Palmer and Dizzy's proprietor Chuck Perrin, who wrote and performed some of the work's "noir" narrative, packed them in, folks diverse of race, age, and gender preference. The Diva herself, Sue Palmer, presided at the piano, her voice mute except for an occasional, subtle vocal backup and for one wild piercing scream. From a strictly theatrical standpoint, Palmer is like a one-woman mime-troupe, an engaging, slyly clownish presence. Others thrown into the film noir narrative soup provided vocals as well. Bass-baritone David Mosby oozed hot sex, blues singer Deejha Marie provided bluesy sauce, and outstanding song stylist Romy Kaye, a touch of sass and class. Whether scat or tight harmony, the two women together were a steamroller, a scream-evoking cacophony of pleasure. Add Mosby, as Palmer does in the climactic number, and hair levitates from heads. Palmer's Motel Swing Orchestra boasts the talents of Sharon Shufelt on drums, Oliver Shirley on bass, April West on trombone, Jonny Viau on sax and bongos, and Steve Wilcox on guitar. Each , individually, is an incomparable artist. West's trombone wah-wahing, body movements and mesh stockings were a treat in and of themselves. She is personality plus...
--Charlene Baldridge, Gay and Lesbian Times, February 28, 2002
Replete with appropriately noir-ish notes by Chuck Perrin, one longs for a whole B Movie or stage play to go with this fine music."
--Blue Suede News, Seattle, Winter 2001-02
"Palmer is one of the best piano players in San Diego - period.....(Her) brand spanking new album, "Soundtrack to a B Movie," is a recording that not only highlights her rich and versatile pounding of the 88 keys, but also taps her flair for vintage cinema and pulp novels with its gritty and grainy overall scheme...Palmer's piano is an appropriate counterpart to vocals and musicianship that is like a who's who of the San Diego boogiewoogie blues scene. Grand Dame Candye Kane makes an appearance as does the smooth-as-silk vocalist David Mosby, but the most prominent voice on "Soundtrack" is the bluesy and beautiful Deejha Marie. Marie has a vocal style that takes listeners right up on stage with her. Combined, Marie and Palmer are a pair of divas whose work together should continue for many years (if San Diego is lucky).
--Lance Vargas La Jolla Light, November 8, 2001
Sue Palmer's CD release party was one of the top ten musical experiences of my life. Some of the others: Front rows at Chuck Berry & Tina Turner concerts, and the symphony at Carnegie Hall. Sue and her friends know how to swing. Buy her album and check them out.
--E. Paul Henderson, Music Critic and Funk Dancer
"Just when you thought every original idea in the world had been snatched up, along comes Sue Palmer and her new disc...The result is a "concept album," that's so cutting-edge you get paper cuts just thinking about it."
--Maureen DelGrosso Blues Revue, September, 2001
"Sue Palmer paints images with her piano, gracefully filling her canvas with notes that soothe and seduce...She is a polished and professional musical artist worthy of attention.
--Michael Kinsman San Diego Union, September 27, 2001
"On 'Soundtrack to a B Movie,'......Sue Palmer continues to ignite the ivories with the dynamic sound and style she promisingly exhibited on her debut, "Boogie Woogie and Motel Swing."
--Joann D. Ball SLAMM, September 6, 2001
"One of the great swing orchestra leaders of yesteryear must have possessed Sue Palmer's body because she delivers some wicked boogie woogie that transports any listener to that little Harlem jazz cafe in 1932. No wonder San Diego has warmly coined Sue Palmer the "Boogie Woogie Queen." Palmer can tickle the ivories like no one's business on tracks such as "The Boogie and the Blues," "Walkin',"and "Left Bank Boogie" so what are you waiting for? Get your boogie shoes on and dance the night away with one of San Diego's best kept secrets."
--Heidi Hudson Lesbian News, September 2001
"A sidewoman no more, keyboard queen Sue Palmer has taken her rightful place as headliner and leader of her own band. The beehive-coifed Candye Kane Band pianist simply has a musical fire that burns too brightly. She's shed her beehive, let her hair down and allowed her fire to erupt. And she loves following her own path.

Her wicked left hand, especially potent on "Room Service Boogie" and "Sue's Boogie," induces listeners to dance their troubles away. Her explosive right hand shimmers with brilliant, perfectly executed melodic riffs, performed with no hint of difficulty.

The San Diego-based Palmer has chosen some of the West Coast's finest to accompany her on this collection of blistering boogies, big-band tunes and blues. Ten of the 13 cuts are instrumentals; vocal tracks on the others are provided by singers hand-picked by Palmer. A gospel boogie version of "Do Lord"--the song a 10-year-old Palmer first heard at her Baptist vacation Bible school that awakened her musical interest--is also included.

Boogie Woogie and Motel Swing is an album of sheer piano artistry; there's not a single misstep. It's one to savor. Five stars."
--Maureen Delgrosso Blues Revue Magazine, November 2000
"If you've been around San Diego a while, you've seen Sue Palmer. Banging on her piano with the vigor and liveliness of a little boy on a toy xylophone, she plays jump boogie like no one's business. Unlike some of the newer aficionados of the style who treat the music like some sort of lodestone, Palmer knows her music for what it is: a friend to be embraced, enjoyed, and occasionally knock about a little bit."
--Clark Novak SLAMM, February 16, 2000
"Her beehive is gone from her Candye Kane days, but pianist Sue Palmer hasn't lost any of that boogie-woogie in her soul."
--Michael Kinsman San Diego Union, January 2000.
"From the opening track, "Room Service Boogie," to the cocktail-nation groove of "Blue and Tan" to Palmer's swinging take of the gospel standard "Do Lord, Do Remember Me," Motel Swing ranks among her finest work."
--Pat Sherman Gay & Lesbian Times, January 20, 2000
"Versatile enough to move comfortably from blues to jazz to swing" and tasteful enough to consider the ensemble sound, Palmer knows the boogie groove inside and out and has such fun in the process that she actually makes it look easy. When she cuts loose, her fiery, attention-getting, right-hand licks bristle with energy, imagination and technical skill. And her dazzling rolling-boil rhythms are courtesy of a muscular left hand that moves with the startling accuracy of an Oscar De La Hoya uppercut."
--Maureen Del Grosso Blues Revue, December 1998
"There are clearly not enough rockabilly, blues-swinging, beehive-wearing accordionist/pianists to go around. We caught a rare sighting of Sue "Beehive" Palmer working the keys with solo artist and ex-porn star Candye Kane."
--Keyboard Magazine October 1997
"This woman is a wailer of the first degree with or without her beehive."
--Marc Gallo, Beach News, Encinitas, CA 1993