Links

For Candye Kane fans, here are 2 rare videos I recently discovered in my memorabilia. One was taken at the Calypso Restaurant in Leucadia, CA, in about 2001 (Wheel of Fortune), and one, earlier, circa 1997 or 98, at Mixx Restaurant, in the Hillcrest neighborhood of San Diego (The Patti Page/Rosemary Clooney Revue). Candye is at her cheesiest and in rare performing mode. The audience loved the camp and, despite the tongue in cheek-ness of it all, her beautiful voice cuts through. We are joined by some of my favorite musical pals: April West, Sharon Shufelt, and on "Wheel of Fortune," Jimmy Woodard, also.
CANDYE KANE with Sue Palmer, April West, and Sharon Shufelt: "The Patti Page/Rosemary Clooney Revue"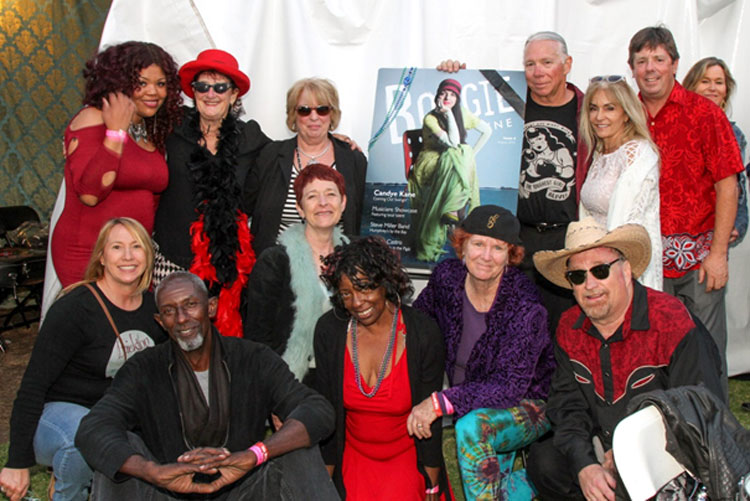 The Passing of Candye Kane
I regret to announce the sad news that, Friday night, May 6, 2016, we lost a force of nature. Candye Kane passed away, after an 8 year battle with cancer. Candye was my long term music partner, for most of the '90s, and was a very dear friend. She took me all over the world, taught me how to perform to my fullest, inspired me to write music, absolutely delighted me and made me laugh. I loved her very much. The Gator By the Bay Festival was dedicated to her memory. She was onstage with us that day. There will be a musical celebration at the Belly Up Tavern, during the day, on June 25, 2016.
Some of Sue's Favorite Candye Kane Photos
Some of Sue's favorite Candye Kane recordings
Cabaret Songs by Various Artists
Ella Fitzgerald, Stephanie Porter, Janell Rock, Romy Kaye, Annie Ross, Marlena Dietrich, Eydie Gorme and Los Panchos, Romy Kaye, Dayna Carroll, Candye Kane, Mose Allison, Trio Ellas, Gabriela Bojorquez.
Boogie Woogie artists that Sue has played with, all over the world
Hadda Brooks/CA, USA — Lluis Coloma/Spain — Mike Seeley/USA — Wendy Dewitt/CA, USA — Janie-Noele Helis/France — Jeanne Cheatham/CA, USA — Sue Palmer/CA, USA — Lluis Coloma/Spain — Carl Sonny Leyland/CA, USA — Deanna Bogart/CA, USA — Silvan Zingg/Switzerland — Jan Preston/Wizard/Australia — Ricky Nye/OHIO, USA — Taryn Donath/CA, USA — Dona Oxford/CA, USA — Liz Pennock/Gaye Adegbalola/FL, USA — Marcia Ball/TEXAS, USA — Chris Conz/Swizterland — Lisa Otey/AZ, USA — Mr. Boogie Woogie/The Netherlands — Sue Palmer/Candye Kane/CA, USA
Listen to some of Sue's radio interviews:
The Thunderbird Sessions/Candye Kane
Sue Palmer KSDS radio show, celebrating the musical career of Candye Kane, March 27, 2016.
Sue Palmer interviewed by Dave Drexler on San Diego Sessions, March 27, 2016.
Interview with Barry Farrar
DJ Sue Palmer interviews Barry Farrar on San Diego Sessions, February 28, 2016.
Interview with Jeannie Cheatham
DJ Sue Palmer interviews the delightful, iconic Jeannie Cheatham on San Diego Sessions, December 20, 2015. Lots of jazz history and San Diego history wrapped up in this talented singer/piano player/author's wonderful career.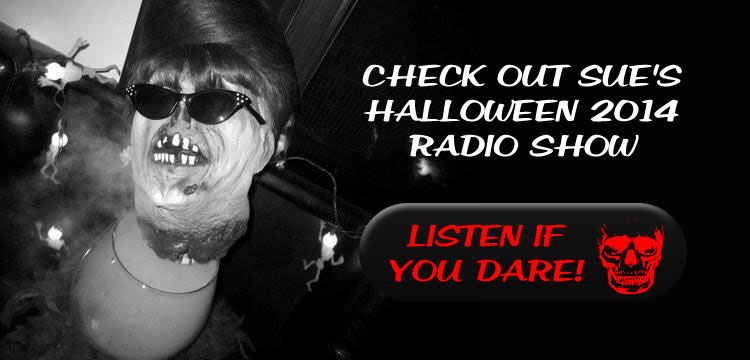 List of Radio Stations where you can hear Sue's music:
— www.WYPE.org, Blues Revue 88.1, with longtime host Old Harv
— www.KConlineradio.com/listen.htm
— Rez Radio 91.3 FM, owned and operated by the Pala Band of Mission Indians in Pala, CA
— Radio 4 - FM 98.3 (principal site) - 91.9 (Fumel) - 107.1 (Villeuveue sur Lot) - www.radio4.Fr
— www.blues102.com, hosted by Wild Bill Kenton
— KRZA 88.7FM, Alamosa, CO, Greg Demko, dj, "Best piano album in years!"
— Music Choice, cable television
— N.E.A.R. FM, Pickin' the Blues," Dublin, Ireland
— XMSatellite Radio, www.xmradio.com with Bill Wax
— Dave Radlauer's syndicated show "Jazz Rhythms-Women of Neo-Swing"
— KSDS, 88.3 FM, San Diego Jazz radio
— WEMU, 89.1 FM, Ypsilanti, MI
— Voice of La Jolla Internet Radio
— "Rockin' Blues Today," Radio RCC, Umbertide, Italy, DJ Simone Bagelli
— "Rootstime" Radio Contact, 107.9 FM, Belgium
— Bay-FM, Byron Bay, Australia
— Kristall radio, Milano, Italy
— Goodtime Blues Radio, FM 91.3, Buenas Aires, Argentina
— "Pickup" Radio Show, Cadiz, Spain
— Radio Economia FM 104.8, "El Autoblues", Basque Country, Spain
— Radio Brawo 92.8 FM, "Z Bluesem na ty" Poland
— Radio Holstebro, Denmark "Black Roots"
— 96.1 FM Radio, Sant Boi, "Born to Be Bad" Show, Barcelona, Spain
— 88.9 FM, WSHA, Raleigh, North Carolina
— 89.3 FM, Washington DC, "Don't Forget the Blues," by Elliott Gross
— Radio Comunidade FM 104.9, Brazil
— KRUGOVALNA, GRUNISNO POLJEI, Jazz radio, Croatia
— Radio 98.6, United Kingdom
— CK-FM 89.1, Quebec, Canada
— Mainstreet Blues, KCOR Kansas City Online Radio
— Radio Sant Boi, Barcelona, Spain
— Bluestimen Radio Sur, Norway, FM 98.6, host Bjorn Wiksaas
— La Hora del Blues, Barcelona, Spain, Radio PICA
— 102.5 FM, Tijuana, Mexico
— Listenlocalradio.com, with Cathryn Beeks, 89.1 KNSJ
— KDPIFM.org Sun Valley, Idaho with Keith Joe Dick
— Sgr-FM 100.1, S. Australia, with Dougie B
— Wine country Radio, KRSH.com, Santa Rosa
— WFDU.FMHD2, A Broad Spectrum, New York, New York
— FM Bariloche 89.1, Argentina
www.hillquest.com (see movieettes of Sue and her bands and music)
Julie Warren, Graphic Designer
Candye Kane
www.unitedbymusic.nl
If you would like to exchange links with suepalmer.com please contact:
suequeenofboogiewoogiepalmer@hotmail.com