Radio Play, Interviews & Other Video/Audio
Radio Stations Where You Can Hear Sue's Music
Listen to Sue Palmer on CatBluz Radio, Episode 207 (March 28, 2023)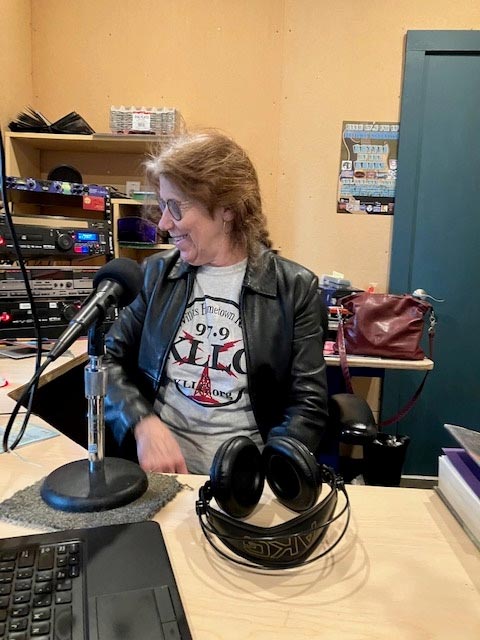 Wendy Dewitt, DJ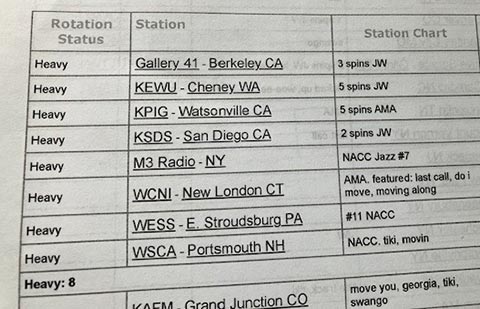 Heavy Rotation in 2023!
— CJUM/ Winnipeg, Manitoba, Canada
— WFDU FM "A Woman's Place is in the Groove"
— WCOM Radio, Blues for Breakfast, Chapel Hill, N.C.
— Cat Bluz Radio
— Willits Hometown Radio, 97.9 KLLG, with Wendy Dewitt, DJ
— KUCI 88.9, Orange County, CA
— Blues Revue 88.1, with longtime host Old Harv
— True Grit Radio Network
— www.KConlineradio.com/listen.htm
— Rez Radio 91.3 FM, owned and operated by the Pala Band of Mission Indians in Pala, CA
— Radio 4 - FM 98.3 (principal site) - 91.9 (Fumel) - 107.1 (Villeuveue sur Lot) - www.radio4.Fr
— KRZA 88.7FM, Alamosa, CO, Greg Demko, dj, "Best piano album in years!"
— Music Choice, cable television
— N.E.A.R. FM, Pickin' the Blues," Dublin, Ireland
— XMSatellite Radio, www.xmradio.com with Bill Wax
— Dave Radlauer's syndicated show "Jazz Rhythms-Women of Neo-Swing"
— KSDS, 88.3 FM, San Diego Jazz radio
— WEMU, 89.1 FM, Ypsilanti, MI
— Voice of La Jolla Internet Radio
— "Rockin' Blues Today," Radio RCC, Umbertide, Italy, DJ Simone Bagelli
— "Rootstime" Radio Contact, 107.9 FM, Belgium
— Bay-FM, Byron Bay, Australia
— Kristall radio, Milano, Italy
— Goodtime Blues Radio, FM 91.3, Buenas Aires, Argentina
— "Pickup" Radio Show, Cadiz, Spain
— Radio Economia FM 104.8, "El Autoblues", Basque Country, Spain
— Radio Brawo 92.8 FM, "Z Bluesem na ty" Poland
— Radio Holstebro, Denmark "Black Roots"
— 96.1 FM Radio, Sant Boi, "Born to Be Bad" Show, Barcelona, Spain
— 88.9 FM, WSHA, Raleigh, North Carolina
— 89.3 FM, Washington DC, "Don't Forget the Blues," by Elliott Gross
— Radio Comunidade FM 104.9, Brazil
— KRUGOVALNA, GRUNISNO POLJEI, Jazz radio, Croatia
— Radio 98.6, United Kingdom
— CK-FM 89.1, Quebec, Canada
— Mainstreet Blues, KCOR Kansas City Online Radio
— Radio Sant Boi, Barcelona, Spain
— Bluestimen Radio Sur, Norway, FM 98.6, host Bjorn Wiksaas
— La Hora del Blues, Barcelona, Spain, Radio PICA
— 102.5 FM, Tijuana, Mexico
— Listenlocalradio.com, with Cathryn Beeks, 89.1 KNSJ
— KDPIFM.org Sun Valley, Idaho with Keith Joe Dick
— Sgr-FM 100.1, S. Australia, with Dougie B
— Wine country Radio, KRSH.com, Santa Rosa
— WFDU.FMHD2, A Broad Spectrum, New York, New York
— FM Bariloche 89.1, Argentina
If you would like to exchange links with suepalmer.com please contact:
suequeenofboogiewoogiepalmer@hotmail.com
Interview with Jeannie Cheatham
DJ Sue Palmer interviews the delightful, iconic Jeannie Cheatham on San Diego Sessions, December 20, 2015. Lots of jazz history and San Diego history wrapped up in this talented singer/piano player/author's wonderful career.
Update 2/22/22: I was lucky to bump into the legendary Jeannie Cheathem this last week. We were reminicing about her wonderful band: The Sweet Baby Blues Band, featuring Jeannie and Jimmy Cheathem. Both of them received Lifetime Achievement Awards from the San Diegoi Music Awards Committee, for their life achievements and their cultural contributions to San Diego

For Candye Kane fans, here are 2 rare videos I recently discovered in my memorabilia. One was taken at the Calypso Restaurant in Leucadia, CA, in about 2001 (Wheel of Fortune), and one, earlier, circa 1997 or 98, at Mixx Restaurant, in the Hillcrest neighborhood of San Diego (The Patti Page/Rosemary Clooney Revue). Candye is at her cheesiest and in rare performing mode. The audience loved the camp and, despite the tongue in cheek-ness of it all, her beautiful voice cuts through. We are joined by some of my favorite musical pals: April West, Sharon Shufelt, and on "Wheel of Fortune," Jimmy Woodard, also.
CANDYE KANE with Sue Palmer, April West, and Sharon Shufelt: "The Patti Page/Rosemary Clooney Revue"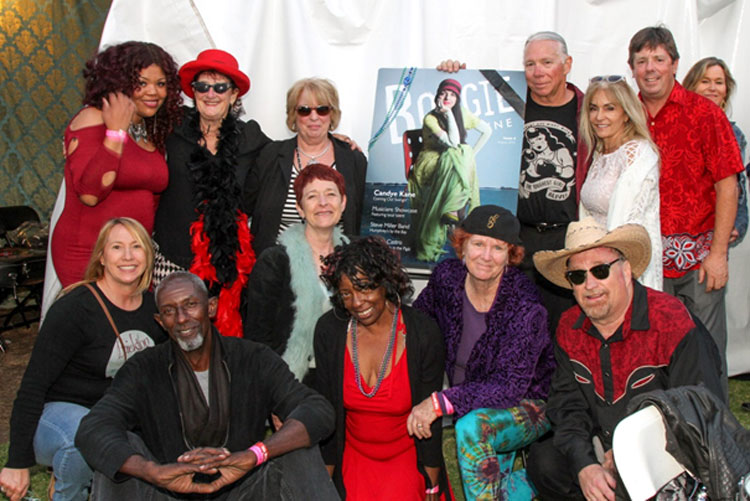 The Passing of Candye Kane
I regret to announce the sad news that, Friday night, May 6, 2016, we lost a force of nature. Candye Kane passed away, after an 8 year battle with cancer. Candye was my long term music partner, for most of the '90s, and was a very dear friend. She took me all over the world, taught me how to perform to my fullest, inspired me to write music, absolutely delighted me and made me laugh. I loved her very much. The Gator By the Bay Festival was dedicated to her memory. She was onstage with us that day. There will be a musical celebration at the Belly Up Tavern, during the day, on June 25, 2016.
Some of Sue's Favorite Candye Kane Photos
Some of Sue's favorite Candye Kane recordings
Best known for her beehive-wearing stint with blues diva Candye Kane in the '90's, Sue has been making her mark in the last decade with her high energy band, the Motel Swing Orchestra, and her flashy boogie woogie stylings. Wearing a couple of pounds of big cocktail rings on each hand, she wails through a very complete blues keyboard vocabulary like the veteran she is. She has performed with many of the legends of the boogie genre, playing double piano with Marcia Ball, Hadda Brooks, Sonny Leyland, Steve Lucky, Jeannie Cheathem, Ricky Nye, Mr. Boogie Woogie (from the Netherlands), Mike Seeley, Caroline Dahl, Wendy Dewitt, Lisa Otey, Doña Oxford, Deanna Bogart, Silvan Zingg (Switzerland), Janie-Noele Helies (France), Elena Tourbina (Russia) and Jan Preston (New Zealand). Sue has been honored by her city for her cultural contributions by having a day named after her (March 25th, 2008), played at the Arches Piano Stage in Cinncinnatti (2008), won the International Blues Challenge in Memphis for Best Self Produced CD 2008 ("Sophisticated Ladies") from the Blues Foundation, won numerous San Diego Music Awards for her albums and bands, including Best Blues Album 2010 for her first solo piano album "After Hours," and in December 2010, won the "Jim Croce Award for Excellence and Dedication to Music, 2010," from his widow, Ingrid Croce. Jan/Feb 2010 brought her a stint as Musical Director for the world premiere of Candye Kane's play, "Toughest Girl Alive," at Moxie Theatre in San Diego. The show played to sold out crowds and rave reviews, and included one of Sue's own compositions (with Kane), Highway of Tears (vocal version of Blue and Tan).
For ten years, Sue was the musical partner of singer/recording artist Candye Kane. They toured France and most of Europe, including Scandinavia, Greece, and Turkey. Their travels also took them to Reunion Island, Canada, Australia, and all over the U.S. Under the moniker Sue "Beehive" Palmer with Candye Kane and the Swingin' Armadillos, she appeared on the Penn & Teller Show and the Roseanne Show, where Sue acted as the talk show band leader (1999). Sue is a featured artist on all four of Kane's CDs under the Antones and Sire labels. Sue's instrumental composition "Beehive" was featured on Kane's "Diva La Grande" CD, and Sue and Candye co-wrote the title tune on Kane's CD "Swango." "Swango" is also featured in the documentary "The Girl Next Door," a biography of porn star Stacy Valentine produced by National Public Radio's Christine Fugat in 2000.
Sue has appeared onstage and/or recorded with Lou Ann Barton, Sue Foley, Teddy Morgan, Lavelle White, Kim Wilson, Marcia Ball, Toni Price, The Paladins, Roy Gaines, Rosie Flores, Big Sandy and the FlyRite Boys, Dave Alvin, Cesar Rosas (Los Lobos), Earl Thomas, Del Rey, Lea Delaria, Pussy Tourette, Buddy Blue, Rod Piazza & the Mighty Fliers, Walter Wolfman Washington, and the Subdudes. Sue backed up Floyd Dixon on a compilation album to Tom Waits, "New Coat of Paint." She has been included in the "Queens of Boogie Woogie" Show in Berkeley, CA, at the Freight & Salvage, in 2001-2004. Sue Palmer & Her Motel Swing Orchestra appeared in the San Diego Blues Festival 2002, Sacramento Jazz Jubil ee, Mammoth Jazz Jubilee (2005-2010), San Diego Thanksgiving Jazz festival (2008-2017), Ocean Beach Jazz festival (2007), Pismo Beach Jazz Jubilee (2015-17), and numerous festivals throughout the years in San Diego. Highlighting her lifetime favorite performances was a Boogie Woogie Extravaganza honoring the original Queen of the Boogie, 85 year old singer songwriter pianist Hadda Brooks... who joined Sue, along with Bay area favorite Wendy Dewitt and Frenchman Philippe Lejeune at San Diego's Dizzy's. That was Hadda's next to last performance. She died November 21st, 2002.
Called "intoxicating and illuminating," Sue's new solo piano album "After Hours" won for Best Blues Album at the San Diego Music Awards, September 2010. Sue performed with the Queens of Boogie Woogie at the Ocean Beach Music Festival 2010, with Lisa Otey, Doña Oxford, and Wendy Dewitt, to an SRO crowd. In 2011, Sue toured for 2 months to Paris, Belgium, Germany, Luxembourg, and the Netherlands, with the great Candye Kane Band and was again musical director for her play "Toughest Girl Alive," at the Manhattan Fringe Fest. Sue's crack band had the honor of backing up the great blues singer, Tracy Nelson at the San Diego Blues Festival and continues to make the dancers in San Diego, and wherever else they perform, "slaves to the dance floor." 2014 has included Boogie Woogie tours to the Bay area in California, Silvan Zingg's International Boogie Woogie Festival in Lugano, Switzerland, and a tour to Georgia for the Motel Swing Orchestra for the Americana Blues Festival on Saint Simon's Island. Sue was also the band leader for a 10 piece all woman blues revue for San Diego's Gator by the Bay Festival: "Ladies Shoes Blues Revue." This show, featuring Deanna Bogart on sax and Carmen Getit on guitar, was the highlight of the whole 4 day festival. Sue Palmer & Her Motel Swing Orchestra were also privileged to play at the 2014 Jazz Festivals in Sun Valley and San Diego, 2014.
2015 was a stellar year for the Motel Swing Orchestra with a new album "Bricktop," some great performances at the Gator By the Bay Festival, San Diego Blues Festival, Pismo Beach Jazz Festival, and the Thanksgiving San Diego Jazz Festival, as well as many others. The Orchestra continues to be "a brick wall of swingin' sound." In Sue's capacity as a DJ for San Diego's aw ard winning jazz and blues station, KSDS Jazz 88.3FM, www.jazz88.org, she snagged a great interview with San Diego's jazz icon Jeannie Cheatham. (See the Links page). In 2016, Sue and the band recorded "The Thunderbird Sessions," showcasing the Motel Swing Orchestra, both aurally and visually, with a CD and eight videos. Sue also travelled to the Netherlands to play for Candye Kane's longtime project, United By Music, working with developmentally disabled young adult musicians for their 10th anniversary.
Sadly, Sue's longtime music partner and friend, Candye Kane, passed away in May, 2016. R.I.P. Candye Kane.
Cabaret Songs by Various Artists
Ella Fitzgerald, Stephanie Porter, Janell Rock, Romy Kaye, Annie Ross, Marlena Dietrich, Eydie Gorme and Los Panchos, Romy Kaye, Dayna Carroll, Candye Kane, Mose Allison, Trio Ellas, Gabriela Bojorquez.
Boogie Woogie artists that Sue has played with, all over the world
Hadda Brooks/CA, USA — Lluis Coloma/Spain — Mike Seeley/USA — Wendy Dewitt/CA, USA — Janie-Noele Helis/France — Jeanne Cheatham/CA, USA — Sue Palmer/CA, USA — Lluis Coloma/Spain — Carl Sonny Leyland/CA, USA — Deanna Bogart/CA, USA — Silvan Zingg/Switzerland — Jan Preston/Wizard/Australia — Ricky Nye/OHIO, USA — Taryn Donath/CA, USA — Dona Oxford/CA, USA — Liz Pennock/Gaye Adegbalola/FL, USA — Marcia Ball/TEXAS, USA — Chris Conz/Swizterland — Lisa Otey/AZ, USA — Mr. Boogie Woogie/The Netherlands — Sue Palmer/Candye Kane/CA, USA
Listen to some of Sue's radio interviews:
The Thunderbird Sessions/Candye Kane
Sue Palmer KSDS radio show, celebrating the musical career of Candye Kane, March 27, 2016.
Sue Palmer interviewed by Dave Drexler on San Diego Sessions, March 27, 2016.
Interview with Barry Farrar
DJ Sue Palmer interviews Barry Farrar on San Diego Sessions, February 28, 2016.