Where to find the Award winning Boogie Woogie piano player...
Check out Sue's latest podcast about Duke Ellington!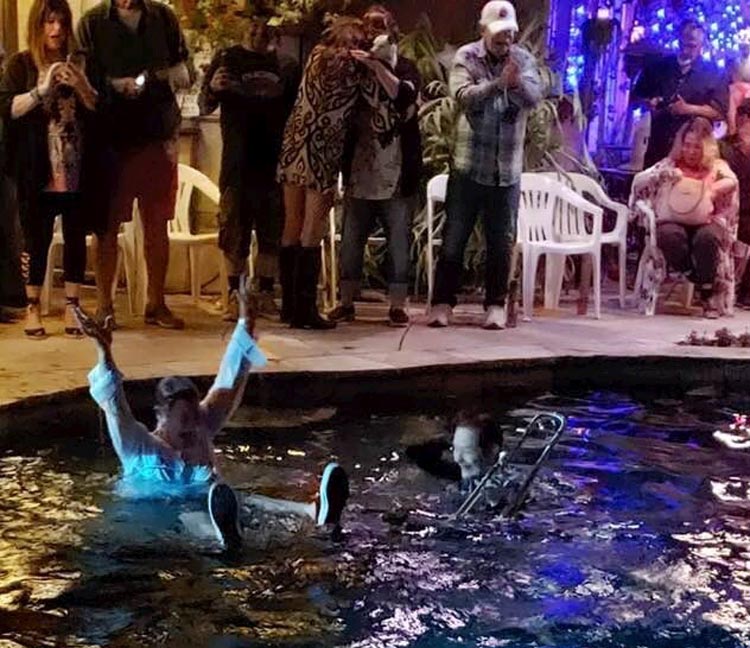 SUE PALMER & HER MOTEL SWING ORCHESTRA RECEIVE TWO NOMINATIONS FOR THE 2019 SAN DIEGO MUSIC AWARDS:
Best Jazz and Best Blues Album
for GEMS, Volume 1!
Tuesday, August 27 [ 7:00pm - 11:00pm ]
The Sue Palmer Quintet will be celebrating the birthday of Sue's long time drummer, SHARON SHUFELT, with special guests at Humphreys Backstage (Shelter Island). Sharon has played with Sue in various configurations for over 40 years: MsBHaven, Tobacco Road, Candye Kane, Judy Taylor & Her Wild Oats, and The Motel Swing Orchestra.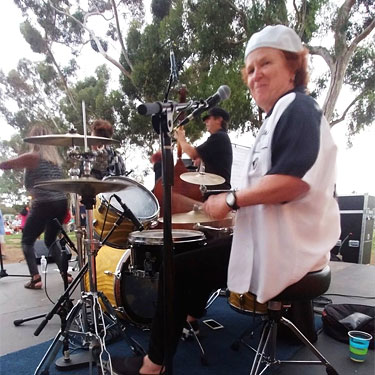 Tuesday, September 3 [ 7:30pm - 10:00pm ]
Thursday, September 5 [ noon ]
Sue plays the Teeny Tiny Piano Festival, produced by Scott Paulson, at UCSD (Geisel Library)

Saturday, September 7 [ ]
Friday, September 13 [ 5:00pm - 7:00pm ]
The Sue Palmer Motel Swing Quintet plays Humphreys Backstage Happy Hour (Shelter Island)

Saturday, September 21 [ 7:00pm ]
Friday, September 27 [ 8:00pm ]
Monday, September 30 [ 7:00pm ]
Sue Palmer GEMS, Volume One

GEMS consists of 20 songs I have recorded since 1980, with various bands of mine, with others, and with special guests. My latest recording, one of 20, was done this year, and was recorded by my band, Sue Palmer & Her Motel Swing Orchestra, with Sharifah Muhammad on vocals, and Laura Chavez on guitar. This beautiful Candye Kane/Laura Chavez penned tune, is called "Don't Cry for Me, New Jersey." Candye was a prolific songwriter, but rarely performed this tune in her live shows. The other 19 are particular favorites of mine, over the years, from bands Ms.B.Haven(an all women's rock band from the late '70s), Tobacco Road (featuring Mr. Preston Coleman), Candye Kane, a country/rockabilly band called the Hayriders, and my current band, to bands that have hired me(Earl Thomas, 2000 Lbs of Blues, Missy Andersen). Special guests on this album include San Diego all stars like Daniel Jackson, Gilbert Castellanos, Rob Thorsen, Molly Stone (Stones Throw), Adrian Demain, and others.

Song List...
1. Down the Road a Piece
2. Black Beauty
3. Gertrude & Stein
4. Don't Cry for Me New Jersey
5. Interlude 1
6. Interlude 2
7. Killer Tiki Boogie
8. Honeysuckle Rose
9. Heartbreak Hotel
10. Why Did You Go Last Night?
11. Motel Mambo
12. Aloha Oe
13. Granny Run Run
14. Roll 'em
15. I've Been Walkin'
16. Walkin'
17. Sweet Lotus Blossom
18. These Boots Are Made for Walkin'
19. Get It
20. Ready for the River (Live)
"San Diego's Sue Palmer is a pianist known to the world as the Queen of Boogie Woogie, and throughout the 20 selections on her dealer's choice anthology, Gems Volume One, we find the sobriquet is hers alone to wear. A constant and vital presence on the local music scene for 30 years plus, Palmer's energized style of of blues, swing, and jazz has delighted fans with keyboard work that is a wonder of rhythm and delicacy, two-fisted swagger and moaning blues holler, straight ahead improvisation and sweet doses of country and torch songs to make the evening's entertainment a diverse delight. These tracks are choices Palmer has selected from the 20 albums she has recorded since 1980, recorded with a broad array of superlative musicians including Rob Thorsen, Candye Kane, April West, Gilbert Castellanos, and a slate of other players who add their distinct personalities to Palmer's dedication to swing, stop and boogie." ...Ted Burke, San Diego Troubadour, sandiegotroubadour.com
August 2nd - Trolley Barn Summer Concert
October 25-27 - Pismo Beach Jazz Jubilee
Nov 27 thru Dec 1 - San Diego Thanksgiving Jazz Festival